Our education program includes primary, secondary, and post-secondary departments.  Our philosophy is to work with children until they are employable in the bustling Kenyan economy. In Kenya this means one to four years of post-secondary education.
Primary Schools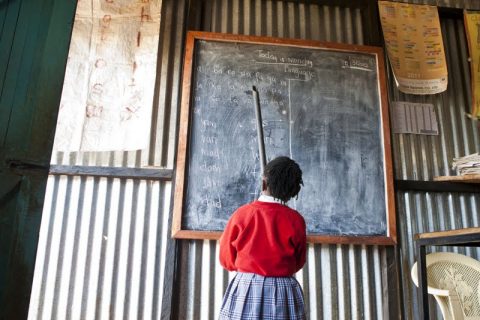 When children join our program, they are normally in Primary School (classes 2, 3 or 4). Our philosophy at the primary school (K – 8) level is to work with private schools. In 2009, Kenya implemented free universal primary education, however did not provide sufficient funding for public schools to implement that mandate. As a result, primary public schools in Kenya tend to be over-crowded and under-resourced. We work with a small number of private schools that have a demonstrated track record of delivering strong academic performance as measured by the Kenya Comprehensive Primary Exam (KCPE) taken by students in 8th grade.
We require that students attend one of our three focus primary schools, Nelson Mandela Academy, Ngando Preparatory or Jagiet Academy which are day schools geographically dispersed in the Dagoretti slum. A very small number of children whose home situations become especially challenging are sent to a primary-level boarding school called GSU.
The KCPE is a 500-point exam. Students who score 200 points or higher earn the right to attend secondary school in our program. Those with lower scores are given the opportunity to attend trade schools.
Secondary (High) Schools
Most students in our program attend a single gender boarding school for grades 9 – 12.  It is extremely competitive to gain admission to high school in Kenya as there are not enough spots for all qualified students.  As a result, we have less flexibility on the high schools our students attend.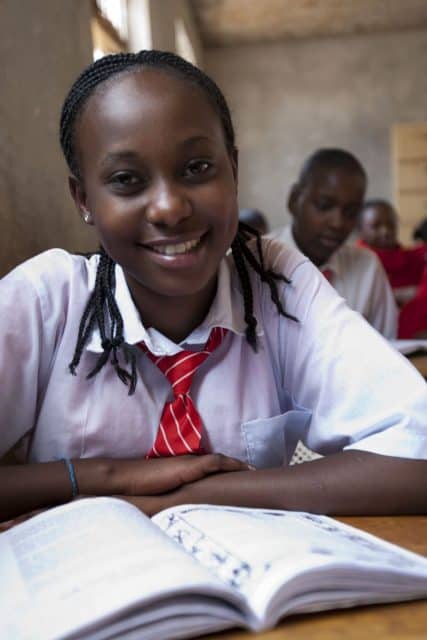 Our philosophy at the high school level is to send students to public high schools, which are sponsored by various levels of Kenya's government most likely to provide the kind of education that assures admission to university. At the end of 2015, we had 14 students in 8 different national high schools, such as Ngara Girls High School or Dagoretti High School. Provincial high schools, like Mirithu Girls Secondary School and Parklands Boys School are a step down from national schools academically. District high schools, such as Kibiru Girls Secondary School, provide the lowest level of government-sponsored high school education. Most of our students currently attend provincial and district secondary schools. When a student's performance precludes them from admission to a district high school, we send them to private high schools, such as Stephjoy or  St. Tito High School (for girls) or Muguga Academy (for boys).
Trade Schools
When a student earns a very low score on the KCPE we send them to trade school. In trade school, boys can learn to become a mechanic, carpenter or plumber. Girls learn to become a seamstress or hairdresser.
Post-Secondary Education
When students finish high school, we ask them to decide whether they choose to enroll in the NRCA post-secondary program.  By enrolling in the post-secondary program, they commit to certain activities and in return receive ongoing support from their sponsor additional education.
Here are some of the benefits of the post-secondary program:
 Students enroll in a computer skills certification program that culminates in a certificate.  Most high school graduates have had some
exposure to computers but being able to work on computers is a requirement for workers in most industries in Kenya.  The three month certificate program is a solid start toward computer literacy for our graduates.
Students participate in seminars on communications skills, resume writing and career options.
Students develop a proposal for the type of post-secondary program they would like to attend.  They visit schools and apply.  They receive their final grades in April and then are ready to finalize applications to the post-secondary program of their choice.  By the end of May, students prepare to present their plan to the Scholarship Committee.  Once the Scholarship Committee has endorsed their plan, we communicate it to sponsors.
Most high school graduates attend a one-to-two year program designed to lead to a job.