We provide education and support for Nairobi children living in poverty whose families are affected by HIV/AIDS so they can transform their lives.
​Our kids are getting jobs! All of our 2012 grads and over half of our 2013 graduates are now working in the bustling Nairobi economy. ​In November 2014, we launched a pilot portable toilet business in Nairobi. "Karibu Loo" helps fund our program and provide valuable "first job" opportunities ​to ​our graduates where we are able to introduce concepts such as showing up on time, wearing appropriate clothing and interacting effectively with customers​​​​. Read more »
Who We Are
Friends of Ngong Road (FoNR) and Ngong Road Children Association (NRCA) are sister organizations with a shared mission, principles and values. We hold a deep belief in the value of education and the hope it can bring to young lives.
Volunteers from Friends of Ngong Road around the world focus on fund-raising, sponsor recruitment, communications and strategy. The volunteers and staff from Ngong Road Children Association in Nairobi, most of whom have lived in or near the impoverished communities where we operate, focus on managing the day-to-day operation of the program.
The Problem We Seek to Solve
The devastation caused by HIV/AIDS in Kenya has left the country with approximately 1 million orphaned children and many more living with a surviving HIV+ parent. Children in this program all live in the slums of Dagoretti, Nairobi where the median household income is under two dollars per day. Approximately 50% of the children in the program are orphans and the other 50% live with a surviving HIV+ parent. About 5% of children in the program are themselves HIV+.
Without the opportunity provided by a high-quality education, these children would be sentenced to lives of continuing poverty and would be an economic drag on Kenyan society.
Education changes everything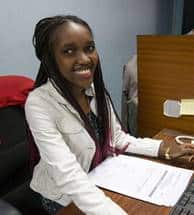 Jackline is one of the graduates of the class of 2012.  Jackline was one of the first students to join our program, and after graduating was recruited as a Customer Care Representative.  Jackline has moved into the middle class, and through her sponsor's support, she has transformed her life.
Read Jackline's Story »
"I looked in the eyes of a parent who probably wouldn't survive the year and I promised we would look after her children. I am determined to keep my word."
--Sally Kenney