Friends of Ngong Road's operating principles emphasize a strong focus on ensuring that donor investment and trust is well placed and drives measurable outcomes.  Given the concern about corruption in Africa, financial accountability has received a great deal of focus from the organization's U.S. Board members.
---
2017 Annual Report: Ready, Willing & Able!
In 2017 Friends of Ngong Road completed its eleventh year helping children in Kenya transform their lives through education thanks to the generosity of partners and supporters across the world. We developed two new programs focused particularly on high school and post-secondary students: Sexual and Reproductive Health and Life Skills. You can read more about them in the 2017 Annual Report titled "Ready, Willing, and Able."
2017 Annual Report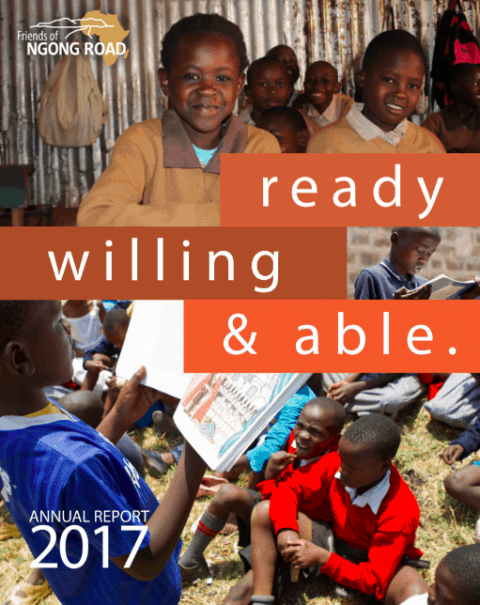 Historical Annual Reports:
2016 Annual Report
Audits Available
Each year since 2009, the firm Clifton Larson Allan has audited financial results of Friends of Ngong Road.
The financial processes and controls at Ngong Road Children Association (NRCA), Friends of Ngong Road's sister organization in Kenya,  were developed in 2007 in consultation with a Kenyan audit professional.  Those processes have been reviewed by an independent auditor each year in Kenya, and in 2016 and 2017 significant improvements were made to NRCA's financial infrastructure.  The sister organizations continue to refine their controls and operate with strong financial infrastructure, including sophisticated modeling and forecasting tools that allow leaders to deeply understand the financial levers that drive operations.

Form 990s
Each year, Friends of Ngong Road files a Form 990 with the IRS.  Form 990 is required of all U.S. non-profit organizations.  It allows anyone interested to examine the financial records of the organization.  We make all of our filings available to the public.