Be a volunteer at Camp!
Camp is staffed by our local caseworkers and by volunteers from the U.S. who travel to Kenya to attend as well as Kenyans who volunteer their time to assist.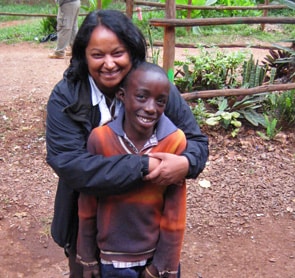 New experiences and expanded worldview: Since 2007, over 50 Americans have volunteered to help out at camp.  The number of American volunteers continues to swell although not all volunteers attend all camps.  There have been an equal number of Kenyan adults who have also volunteered to help at camp over the years.  This mix has provided another wonderful delight of the NRCA camp experience, the interchange of cultures, ideas and the wonderful resource of different people with different knowledge and skill set to share with the kids.  One volunteer, Margaret Pfeffer, has attended many camps, running our craft learning programs.  Many have gotten "hooked" and have attended more than once.
All voluteers have used their unique skills to teach classes, run new and creative games, and to share new life experiences with the kids.  This includes a workshop on causes of sexual violence, classes on drawing, biology lessons and writing workshops.  Our volunteers from our partner Wilderness Inquiry (a Twin Cities based wilderness travel company and non-profit) have helped us provide our children with the opportunity to see African wildlife in Kenya's national parks and to climb parts of Mount Kenya, experiencing bamboo forests and piles of elephant dung for the first time.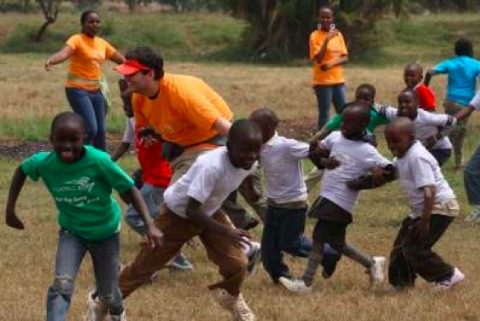 This experience has been two–way as our amazing NRCA children and Kenyan staff and adult volunteers have taught our American visitors many new things and opened up our eyes in many ways.
Transforming lives: As one of our American volunteers put it, "When I first arrived in camp, I wondered if I could survive the difficult living conditions at camp.  That feeling lasted about one hour and then I realized just how wonderful it was to be around these kids… camp experience is all about the kids.  They are very special and I want to come back to camp again…"
Want to volunteer?  If you are interested in joining as a camp volunteer in the future, please email [email protected].  She will be happy to discuss the rigors and opportunities involved in being a camp volunteer and explain the wonderful safari opportunities surrounding a trip to Kenya for NRCA holiday camp.
2018 Camp Dates: 
Post-Secondary Camp: 8/6 to 8/8
Leadership Camp: 8/8 to 8/11
Grammar Camp: 8/11 to  8/15
Senior Camp: 8/16 to 8/22
Visit the Camp page for descriptions of the different camps put on each August.
$1000 Travel Grant
For several years, Emily Gleason and Turner Cobden have provided a $1000 partial travel grant for the Friends of Ngong Road Holiday Camp.  This grant is awarded to a candidate they believe will best contribute to the holiday camp and to the mission of the charity: to provide education and support for Nairobi children living in poverty whose families are affected by HIV/AIDS so they can transform their lives.
Deadline to apply: the 2018 deadline is past. Be on the lookout in early 2019 for information on the 2019 application.
The ideal candidate will demonstrate the willingness and skills necessary to contribute in the following three key ways:
Contribute to the experiences and activities of the campers at the Ngong Road Camp.

Help to promote and grow the Friends of Ngong Road charity.

Take this opportunity to grow him or herself as a person.
It is important to have new people and new ideas join us at camp. The ideal recipient will desire to lead new lessons and/or activities to enhance the experiences of the campers. Additionally, the recipient will serve as an ambassador for the Ngong Road Holiday Camp and the Friends of Ngong Road charity by educating current and future donors about the camp and the students who are supported by the charity.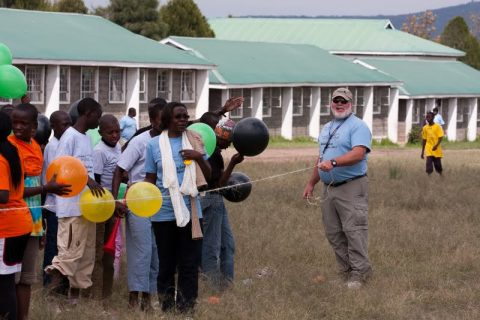 The recipient must:
Attend at least the Ngong Road Leadership and Senior Camp ideally would attend all camps.
Participate in all camp activities, plan and lead at least one original activity at the camp they attend.
Attend fall fund raising events either in person or via skype.
Write a brief description of their experiences at camp for the Friends of Ngong Road newsletter.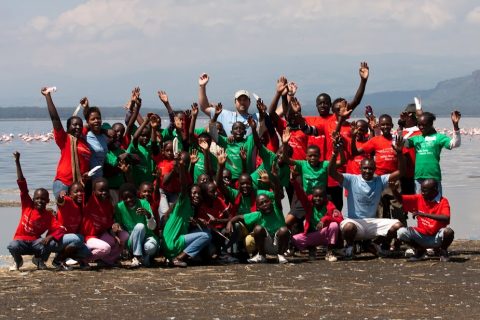 To apply for this grant or request additional information, please send the following information to [email protected]:
Name

Postal address

Email address

Phone

Birthdate

Resume or CV

One reference with phone number for us to contact

Two short essays:

Description of the lesson/activity you would want to lead while at camp

Personal statement covering why you want to come to camp, and why you would be a good choice for this grant.
To help you write the lesson/activity plan, here are the goals for camp and a brief outline of what you should cover:
Goals for Ngong Road Camp:
The purpose of the camp is to provide the campers with a fun experience filled with activities and memories.  Our goals are to:
Feed children during the school holiday

Build a strong community among the children of Ngong Road

Teach the values of friendship, teamwork, leadership and community support

Educate children in a variety of ways

Provide an opportunity for Americans to share their culture, ideas 

and give back to people in need

Bring joy into the lives of the children and camp staff as we have 

fun and work hard together
Daily Camp Experience will include:
Have fun

Learn life skills including community action, life skills, sportsmanship and teamwork

Play creative team games

Play competitive team games

Dancing and singing 

Natural World experience on Mount Kenya

Educational discussions

Free time to have fun with friends

Camp fire and laughter
We will accomplish this through a variety of experiences and activities at the camp day camp facilities
Essay 1: Lesson Plan or Activity
In 1-2 pages, please outline a lesson plan, game, or activity that you would implement in camp this summer if you receive this grant. You may write up this question in the format of an essay or as a formal lesson plan. In your essay/lesson plan, please describe the lesson, game, or activity in detail and address the following questions:
Detailed Rationale: What are your goals for this lesson or activity? Why have you chosen this particular lesson or activity to address these goals?

Learner objectives: What do you hope the students will learn?

Context: How would your activity contribute to or fit in with the broader goals of camp?

Materials/Audience: What materials would you need? Which camp would you implement this activity in (what ages)?

Procedure: How does your lesson or activity work? How will you structure the lesson or activity?

Accommodation: What do you see as being the greatest challenge you would face in implementing this lesson or activity? How do you plan to address this problem? How will you deal with problems or students who can't/won't perform these tasks?

Evaluation/Assessment: How will you know if your lesson or activity has been a success? How would you know if you met your goals for this lesson or activity?
Essay 2: Personal Statement
In 1-2 pages, please tell us about who you are as a person and why you are the ideal candidate to receive this grant.  This statement is your opportunity to share with us and we look forward to reading it.  Here are some ideas to focus on:
Your uniqueness: Camp is full of characters; what makes you unique?

Your goals: What personal goals will this experience help you achieve?

Your story: What events motivated you to want to join us at camp?