In its 201

3 – 2015 strategic plan Friends of Ngong Road set a goal of launching a for-profit business in Kenya in 2014-2015. The objectives for this business creation are to: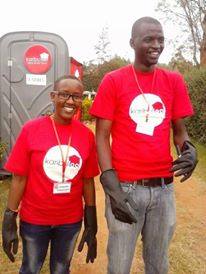 Generate a stream of income to support our mission of educating children in Nairobi's slums

Provide employment for graduates of our program.

During 2015, we conducted a pilot project for a portable toilet business we branded Karibu Loo. Karibu means "welcome" in Swahili and Loo is well-understood in Kenya due to its colonial British past. The integrated tagline in the round red logo says "helping educate children" to clearly state the business' purpose. Our positioning is to provide a clean, high quality portable toilet experience while also allowing clients to know they are acting as responsible corporate citizens by supporting an organization that uses its profits to educate impoverished Kenyan children.The initial shipment of 26 loos, a truck, and an exhauster arrived in Nairobi in November 2014.  
Pilot Completed
The pilot phase of the project has concluded and we will expand the business in 2016.  We believe this business has significant growth potential and believe Karibu Loo will become one of the major portable toilet competitors in Nairobi by 2017. It will also give many of our graduates that very valuable first job out of, or during, school. 
Karibu Loo ended its pilot year 2015 with a modest profit against an objective of breaking even.The business mix was mostly short-term rentals with only a few long term rentals. The weather is very mild in Kenya and most activities (weddings, funerals, parties, sporting events) are held outside in informal spaces with no toilet services. Long term rentals should be with construction companies but this has proven to be pioneer work in Kenya.
The highest revenue months for 2015 were May, July, and December. This lines up with the seasonality of the event-based (short-term rental) business in Kenya.  Easter break, July/August school break and Christmas drive events in Nairobi and our sales reflect this. Sales for December were strong and above our 201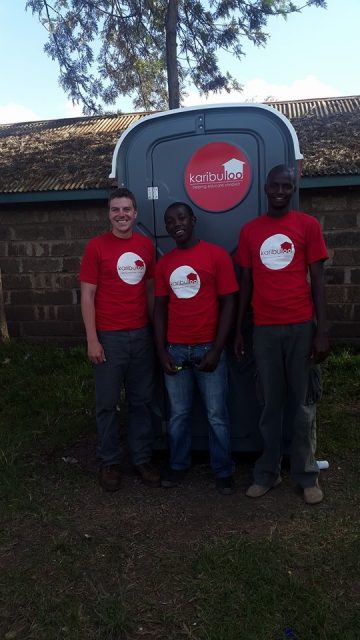 5 monthly average.
In 2015, we provided the opportunity for 20 high school graduates to work as Associates. In addition we have employed Jackline Nyarwai, Winnie Anyango, and Faith Mumo as receptionists/administrative assistants, Maureen Wambui as an assistant accountant, and two young men (John Githeu and Duncan Chege) as drivers or drivers' assistants. This helps us fulfill an important part of our mission: "to provide employment opportunities to NRCA graduates."
Expanding the Business
We are currently finalizing shipments that are soon to leave Germany and South Africa for additional loos, hand-washing stations, handicap loos, a VIP loo, and a pick-up truck. Our shipments are scheduled to arrive in late March.  We are preparing two new storage facilities for the two trucks and for all loos and handwashing stations. Two additional drivers/drivers' assistants (both NRCA graduates) have been hired in January on a part-time basis to enter training to help handle the upcoming shipments and new operational challenges.  In addition to the additional drivers/driver's assistants we will hire a new salesperson with industry experience in preparation for expansion. We will also greatly expand the number of high school graduates in our Associates pool.
For more information: