In its 201

3 – 2015 strategic plan Friends of Ngong Road set a goal of launching a for-profit business in Kenya in 2014-2015. The objectives for this business creation are to: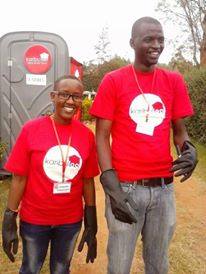 Generate a stream of income to support our mission of educating children in Nairobi's slums

Provide employment for graduates of our program.

During 2015, we conducted a pilot project for a portable toilet business we branded Karibu Loo (KL). "Karibu" means "welcome" in Swahili and "Loo" is well-understood  as a word for "toilet" in Kenya due to its colonial British past. The integrated tagline in the round red logo says "helping educate children" to clearly state the business' purpose. Our positioning is to provide a clean, high quality portable toilet experience while also allowing clients to know they are acting as responsible corporate citizens by supporting an organization that uses its profits to educate impoverished Kenyan children. More information is available on the Karibu Loo website.
Our business model is based on establishing a profitable business that delivers funds to our charitable organization in Nairobi thus lowering the donated funds we need to raise, thereby allowing for program growth and sustainability. Our vision is that 25% of the operating expenses of our education-supporting organization in Kenya will be generated by KL by 2021. We believe this objective is achievable, assuming we are able to expeditiously expand by ordering new equipment. KL is a wholly-owned subsidiary of FoNR.
KL makes money by charging a competitive rate for cabin rental, providing superior service and maintaining the quality of the rental experience. Extraordinary transport and servicing costs are also billed to clients at a premium.
Currently, KL is a small business, with revenue totaling about $100,000 in 2017. The business is led by Maureen Mulievi, an experienced Kenyan leader of non-profit organizations. She works with Steve Muendo, head of operations and Kenneth Odongo, head of sales. These professionals are all in their late 20s/early 30s with prior work experience. We now employ five of our graduates full time in marketing (1), bookkeeping (1), and operations (3). Our Associates program has employed over 50 recent high school graduates and has shown them the importance of showing up for work on time, properly dressed, and able to complete the tasks assigned in a positive and engaged manner.
KL is advised by:
Paula Meyer

, founder and current president of FoNR and KL boards

Raj Bains,

managing director, Kim-Fay (Kimberly Clark's affiliate in Nairobi), KL board member

Keith Kale,

international business veteran, FoNR and KL board member

Boniface Kariuki,

vice president, Diversey F&B (a division of Bain Capital) based in South Africa, KL board member

Amy Johnson,

former executive at Ameriprise, FoNR board member

Brian Hartart, executive at Ameriprise, FoNR and KL board member
Michael Switzer,

former KL general manager, recent University of Minnesota M.B.A., currently employed at 3M in Investor Relations
PROGRESS
KL began in 2015 as a pilot with 28 cabins and a truck/exhauster. In 2016, KL hired a local leader and expanded the business by 60 cabins, a VIP cabin and a pickup truck. We lost a year between mid-2016 and mid-2017 dealing with the poor leadership decision, correcting that mistake, and establishing a new leader in July 2017. After hiring our current leader, the business gained traction again, and we have recently added a sales professional.
Karibu Loo has gone from an idea to a profitable business that requires more capital to grow. Accomplishments include:
Successful completion of a pilot in 2015 and early 2016 with 28 cabins and one truck/exhauster.

Growth in cabin count to 88 and infrastructure including a larger storage and servicing yard, resulting in losses that were absorbed with contributions from FoNR.

Expanded board of directors to include three Kenyan business leaders.

Successful transition to an effective KL leader in mid-2017.

Five successive months of profit in 2018 based upon the type of business we must build: long-term rentals.

Securing major clients such as the British Army, Chinese and other construction companies, and churches for Sunday service weekly plus funerals and weddings.
Running the business has been a challenge this year as our assets are spread very thin. Current assets include 88 cabins (including one VIP cabin), a large truck, one exhauster and a pickup truck that can pull a newly-built trailer to transport cabins. The biggest challenge facing KL right now is to replace and/or expand our capital assets:
New truck:

The truck purchased in late 2014 was a used truck from Japan. Kenya's roads and the wear-and-tear of the business have taken it to near the end of its useful life. KL contracted for third-party transport to deliver cabins to the British Army and is currently renting a large truck full time (combined cost in Q1 = $14.5k) to service that business. A new truck is needed as soon as possible.

Additional exhauster: KL's original exhauster remains in good condition, but when we have business outside of Nairobi KL is forced to use manual waste removal. This is unpleasant and unhealthy for our staff. Addition of an exhauster in 2018 would support growth and alleviate this issue.
New cabins:

The small number of available cabins has forced KL to rent cabins from competitors on occasion (Q1 cost = $615). Purchase of 60 more cabins is needed.
The next phase of the business will require capital spending and KL is in the process of raising funds to purchase the above equipment. Total cost = $170,000, with  $20,000 raised to date.
Each of the first five months in 2018 were profitable, reflecting increasing success at securing long-term rental contracts. In 2018 KL's goals are to raise $170,000 for equipment purchase and to generate profit of $10,000 to donate to our affiliated charity. Both goals seem achievable given the $20,000 already raised and first quarter profits of $10,000.
For more information: