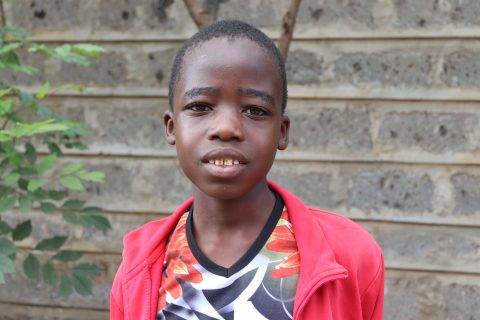 In a family of seven, Reagan Juma is the second and last born of his four siblings. He has been schooling at Ndurarua primary school. When he gets sponsored in our program he will join Jagiet Primary because it's one of our focus schools. Reagan is a bright student who loves studying, he enjoys mathematics. Despite his passion to be in school, he is not able to due to his home situation. Reagan's father is a casual laborer who depends on casual labor for survival. However, the little he gets is divided, some of it is channeled to medication where his father suffers from diabetes while his mother suffers from Meningitis, while the least is left for food. His mother on the other hand is not able to even do casual labour due to her condition thus making it even worse for the family to survive.
He and his family live in the slums of "kawangware" in a single room made out of concrete, timber, and old Iron sheets. The house has been subdivided into two by a curtain to serve as a living room, bedroom and kitchen all together. The house is furnished with a couch, a table, and a bed which the parents utilize, his elder brother sleeps at the neighbor's place while the second born sleeps on the couch. Reagan and his two other siblings sleep on a mattress that is spread on the floor for the night.
The house is connected to electricity which they pay via a token. Hence he is able to do his evening studies as well as his homework.When preparing a meal they use a kerosene stove, where they purchase paraffin once the previous purchase is used up.
Life for this family gets harder by day as the standards of living rise each day. The father is optimistic regardless and hopeful about the success of his children. Reagan's passion for football is exceptional. He supports Manchester City in the English Premier League. He loves playing football with his friends both at school and at home. His favorite food is pilau and beef. Reagan's best subjects are Mathematics and science. When Reagan is of age and successfully completes his studies he would love to be an Aeronautical Engineer.