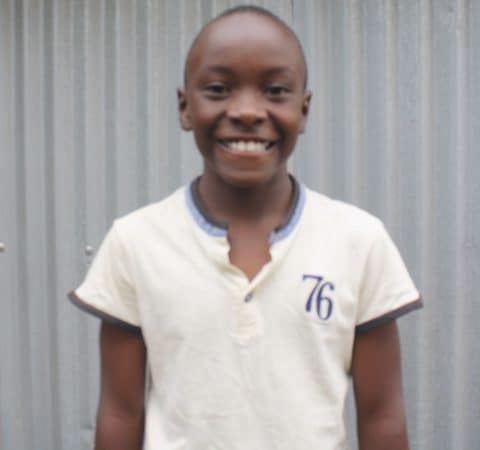 Wycliffe is nine years old. He was born on 8th, April 2008. The child lives with both his parents and two other siblings. They stay in Kawangware slum which is densely populated and full of activities. The child's mother is HIV/AIDS positive and therefore under ARV(s) medication so as to remain strong.  Wycliffe is however negative tested. Both the parents are working but the income got is not enough to sustain the family. The mother is a shop attendant in a local shop in the area while the father is a security guard in a local security firm. The little income that both the parents earn is what the family uses. At times they even forgo some basic needs due to lack of money.
The family lives in a two room house that is made of rusty iron sheets and timber. It is connected to electricity and thus the child is able to study even at night. The house is not self-contained and therefore the family has to share washrooms with their neighbors. Their house also has no running tap water and therefore the family gets to fetch both drinking and washing water from the nearby water vendors at a cost of Ksh.5 per 20 liter jerican. At home, the child sleeps on a shared double decker bed with his other two siblings. They have a small television set and a radio in which the family uses to know the current affairs worldwide and locally and also for entertainment.
At school, Wycliffe studies at St Clement Orthodox Primary School. He is currently in class five. The child will be joining Jagiet Academy, which is one of our focus school schools, should he get the chance to be sponsored.