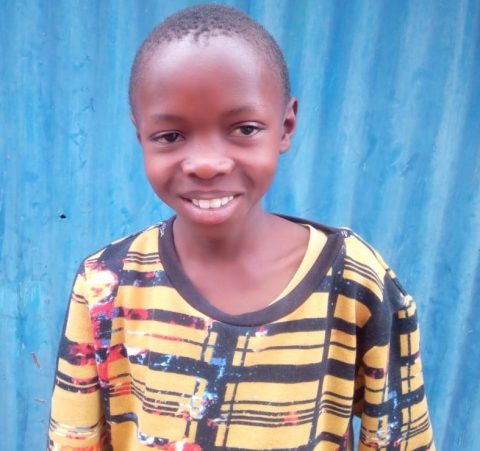 Wilfred is nine years old, he was born in 5th November 2009. He is in grade three at St. Francis of Assist school, in Gatina, Kawangware. His school is 15 minutes' walk from his home, he leaves the house 6:15 am since they start preps at 6:30 am. He has two siblings his twin brother and eldest sister. They live in a one room house made of iron sheet, the iron sheets are painted blue. They are six family member in the house, his mother, grandmother cousin and two siblings. The house doubles to a bedroom, sitting room and kitchen. He sleep on the couch as the two beds are occupied by the rest of the family members. They use gas to cook their meals, his grandmother is asthmatic thus was being affected by charcoal and kerosene stove smell thus the women in her church bought them gas. They buy water at 10 shillings per 20litre jerry can. Wilfred does his homework on a wooden table available in the house. They have electric connection therefore easy for him and his twin brother and cousin to do they school assignments and revision in the evenings. They share a latrine with two other households and share one bathroom with three other households.
His mother is a widow, father died 8 years ago when Wilfred was two year old. His mother does household chores to middle class families. She is HIV/AIDS positive and has lost one eye recently due to the ARV's medication. She is however trying to make ends meet despite the health challenges she is undergoing. At the time of our pre-visit his mother was working thus we met with his grandmother.
Wilfred's favorite sport is soccer, he plays number seven in their team. He wants to become a pilot when he grows up, this is because he wants to visit different places in the world while taking other people. His favorite subject is mathematics and Kiswahili. During his free time he helps to do dishes, cleaning the house and fetching water. When he joins the program Wilfred will join Jagiet Academy one of our focus schools.