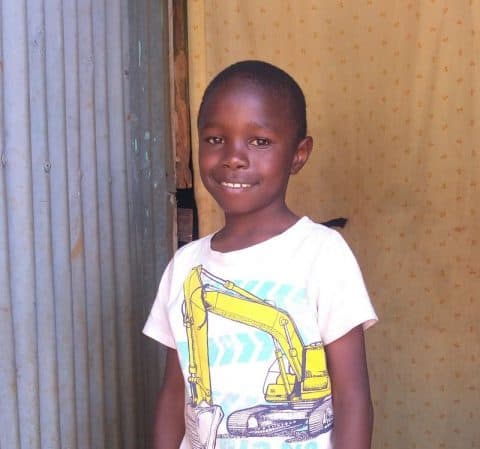 Victor Mule is seven years old. He was born on 2nd, April, 2010. The child is the second born in a family of three siblings. He stays with the mother who is HIV/AIDS positive and also who happens to be the bread winner of the family. The mother makes her living by running a small salon in the community. The income got is not enough for the family and at times, they get to some meals because of lack of enough money to buy them.
The child and the family come from Ngando area which is densely populated. They live in a double room house that is made of iron sheets and timber. The house is connected to electricity and therefore the child is able to do his studies even at night. The child shares a bed with his elder sibling each night on a double decker bed that is at one corner of the room. The get to fetch water for domestic use in the compound. When it is not there, they fetch from the nearest water vendors at a cost of KSH 10 per twenty liter jerican. The family shares washrooms with the neighbors because their house is not self-contained.
The child is in class three and therefore, he will be joining Jagiet Academy once he is in the NRCA program. In the recent interview exams, Victor managed to get a total of 405 marks out of a possible 500 marks. He would like to become a doctor in the future so that he can be able to treat the sick in the society.