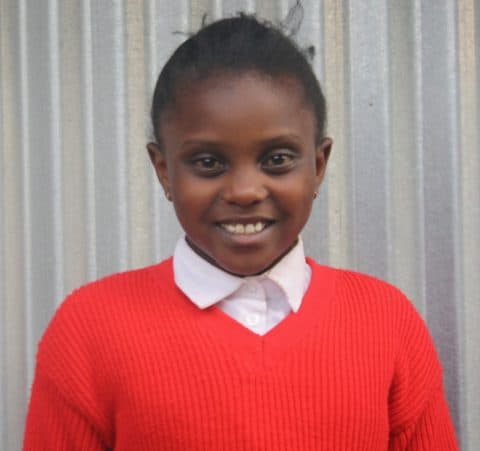 Valentine is nine years old, born on 9Th February, 2008. She lives with her parents in satellite slums. The area is densely populated and with lots of activities ranging from small businesses to other social activities. She is in third grade in Nelson Mandela School. She lives with her father mother, three sisters and brother. Her father has tested HIV positive but the mother has tested negative. Valentine is HIV negative tested. When she joins the program, she will continue studying in the same school which is a private and one of our focus schools. She will benefit from quality education, nutrition, health care and community support.
The family lives in a one room house that is made of old rusty iron sheets. It has an electric connection hence she studys comfortably at night. There is no running tap water at home therefore, they buy it from a nearby vendor at a cost of Ksh.5 per 20 liter jerican. They use charcoal or kerosene stove for cooking their meals as they are the most affordable. Valentine gets two meals in a day. They share a bathroom and pit latrine with their neighbors. She shares a bed with her younger sister. The father works as a barber in the city while the mother sells vegetables in the home area for an income.
In school, her best subject is English. In the recent exam, she was able to score a total of 422/500 marks. She enjoys doing simple duties at home like washing dishes and tiding the house. She likes Ugali and Chicken. When she grows up, she would like to be Doctor and treat the sick in the society.
When she gets sponsorship, Valentine is hopeful of successfully finishing school and getting a job.