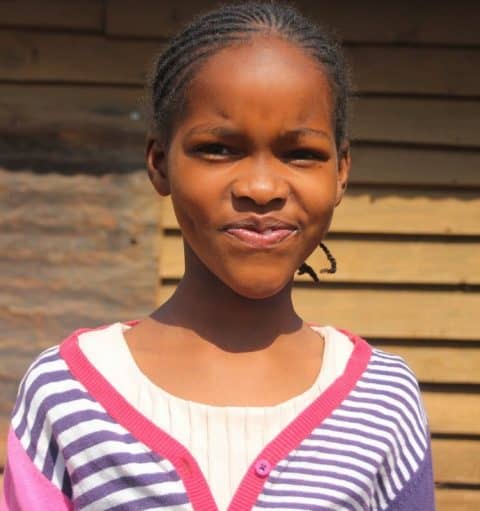 Teresia Njeri is eight years old. She was born on 28th, October 2009. She is in third grade at Jagiet Academy. Teresia and her family lives in the Kawangware slums. It is a densely populated area and with lots of activities. The family lives in a two room home. Both her parents have tested HIV/AIDS positive and are therefore on ARV medication. The child has however tested negative. When she joins the program, she will attend Jagiet Academy, a private and one of our focus schools.
The family lives in a two room home. The house is made of bricks and iron sheets. The house is connected to electricity which they use at night for lighting up the house. They use a gas cooker and kerosene stove for cooking food. They are able to get drinking and washing water from the nearby vendors at ksh.5 per 20 liter jerican. It is a fairly large family that is composed of six people. Both the parents are not permanently employed. They therefore do casual jobs. The mother does laundry for other people whilst the father also does casual jobs that may arise like construction so as to cater for the family every day. Their income is therefore not that stable and therefore, at times they end up skipping some meals and lacking some basic needs.
Teresia shares bed with her elder sister. She is a polite girl and always ready to explore new things. She enjoys skipping rope with her friends. During her interview she scored 414/500 marks. She is a focused and a hardworking student. Her favorite subject is Christian Religious Education (CRE) and her favorite meal is rice and beef stew. She enjoys reading. When she grows up, she would like to be a doctor and treat the sick in the society.
Should Teresia join the program, her parents admit that it will be of great help since they have difficulty in paying her school fees and buying other school needs.