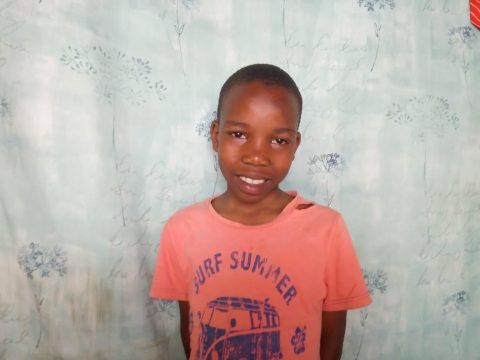 John is nine years old. He was born 05/26/2009. He is the second born of four siblings. 
He is in second grade at Excel Emmanuel Academy in Ngando slum. When he joins the program he will join Nelson Mandela. The school is 15 minutes' walk from home. He live with his mother, father, brother and sister. Their 1st born sister lives with the grandparents' upcountry. They live in a single room house made of blue colored iron sheet with a cemented floor. They have one simple three seater wooden chair and a table, the also have three plastic chairs stack together used when they are all in the house or when they receive visitors. They use a kerosene stove or sometimes a meko to prepare their meals.  John shares a bed with his second born sister. 
 
They buy water from a water vendor who is 200 meters away at Ksh.5 per 20 liter jerry can. They share toilets with ten other households and have to carry water to pour on the toilet since they do not have running water in the washroom. The bathroom are also shared with close to thirty (30) households since they are only two in the whole plot. His father does any available casual work e.g. in the construction sites and the mother sells roasted peanuts by the road side in the slum. 
 
His father tested HIV/AIDS positive in 2014 and since then he has been taking ARV's religiously. The couple is discordant, mother tested negative thus they were advised to use protection to avoid contracting the partner. John is lucky to have tested negative. 
 
During his recent exam he scored 447 marks. His favorite subject is Christian Religious Education (CRE) because he enjoys reading about a supernatural God. John wants to become a doctor when he grows because he wants to help sick people.  His favorite sport is soccer and favorite club is Chelsea.