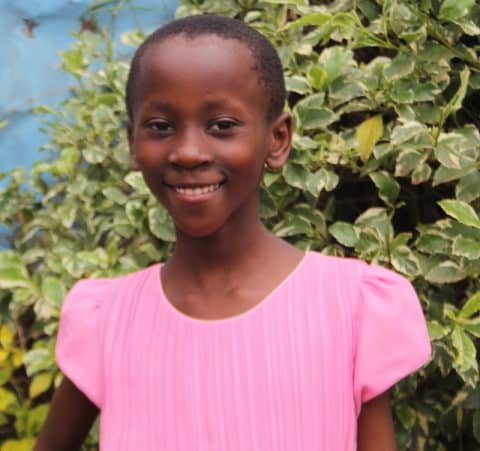 Stephanie is eight years old, she was born in 29th July 2009. She is in second grade at Kinyanjui Road Primary School. When she joins the program, she will be enrolled at Jagiet academy which is our focus school.
Stephanie lives with her mother and sister in a very small single room house in Kawangware slum. They do not have electricity thus they use a hurricane lamp to light the house at night. It is therefore strenuous for them to do their school homework assignments since they also don't have a table to read from, they place their books on a stool. They share latrines and bath room with a couple other households in the plot. They buy water for domestic use and drinking from a borehole water vendor nearby.  Her mother separated with her father and he remarried and left Nairobi to live in the rural area, he however does not support the family. Her mother sells second hand t-shirts at Kawangware slum market. Her mother tested positive for HIV/AIDS, however Stephanie has tested HIV/AIDS negative.
Stephanie's hobby is playing soccer and her favorite meal is fish and chips/fries. Her favorite subject at school is mathematics she says the mathematics will enable her achieve her dream of becoming a Banker. During her recent examination she score 412 marks out of 500 marks.