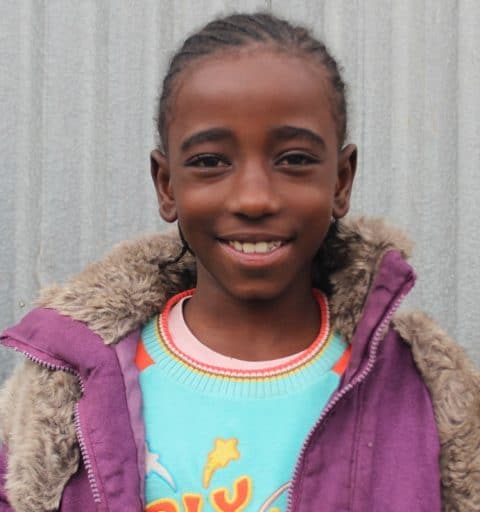 Sasha Omushieni is eight years old. She was born on 11th June, 2009. Sasha has a twin sister. She lives with both her parents and her other four siblings who are HIV/AIDS positive. She has however tested negative. She stays in Kabiria area which is densely populated and full of activities. The family is very humble. Both the parents are not permanently employed and therefore have to depend on the jobs that may be available in the area. The mother to the child lost her nursing job after it was realized that she is HIV/AIDS positive. This has really affected her economic life and that of the family. This is what the family depends on so to as to get their daily bread. They are however concerned with the education life of their children with Sasha included. They want the best for their children and thus they are doing all that is humanly possible to see their children study so that they can be able to transform their lives for the better.
They family lives in a two room house which is made using iron sheets and timber. The family finds it even hard to pay their own rent given the fact that the income got is not enough. Their house is connected to electricity and therefore the child is able to study even at night. Sasha shares a bed with her twin sister. The family gets to fetch water from the nearest vendors at a cost of eight shillings per 20 liter jerican. They also share washrooms with their neighbors now that their house is not self-contained.
Sasha is currently schooling at Kinyanjui Primary school and in class three. She would like to study well and be able to get a good job once she is done with education so that she can be able to help her family come out of the poverty cycle that they are in. In terms of meals, Sasha's best delicacy is rice with either chicken or fish stew. The child loves skipping rope, reading story books or even studying when at home and when free. According to her parents, Sasha is polite, disciplined and caring child. They therefore pray that she remains that way for her to go far in life.
When she joins the program, Sasha will be able to join Jagiet Academy which is one of our focus school.