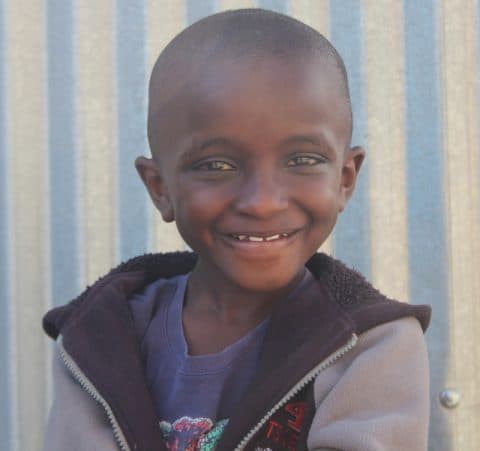 Sam is seven years old. He was born on 22nd March, 2010. He and the family comes from Ngando area which is one of the slum areas in Nairobi. The place is densely populated and full of different people. Sam will join second grade next year. Should he join the program, Sam will continue to study at Nelson Mandela School which is also one of our focus primary schools.
The family is composed of three individuals. That is the mother, Sam and his sister Jasmine. Their mother is HIV/AIDS positive tested and therefore under ARV(s) medication so as to remain strong for family. The children are however negative tested. They live in a two room house that is made of iron sheets and timber. Their house is connected to electricity and therefore Sam and his sister are able to study even at night without a problem. They have a table in the middle of the house and three chairs in which the family is able to use for sitting and any other person that comes visiting. The house is not self-contained and therefore Sam and the rest of the family gets to share washrooms with their neighbors. They also fetch water from the nearest water vendors at a cost of Ksh.5 per 20 liter jerican. Sam, his mother and sister gets to share a bed at night. It is the only available bed in the house and the mother is worried that the bed will soon not be able to fit them all now that they are growing.
Sam's mother is not permanently employed and therefore does a small business of selling Kales and some cereals so as to make a living. The income is not that good but the family manages with the little that is got. They at times have to even skip some meals due to lack of money. The mother is however optimistic that this will soon change.
Sam loves read story books, play hide and seek and soccer during free time. His favorite subject is in school is English. In his recent selection exam, Sam was able to get a total of 410 out of a possible 500 marks. When he grows up he would like to be either a police man or a doctor.
When the child joins the program, he will be able to benefit from education, nutrition and social development through the sponsorship in the program.