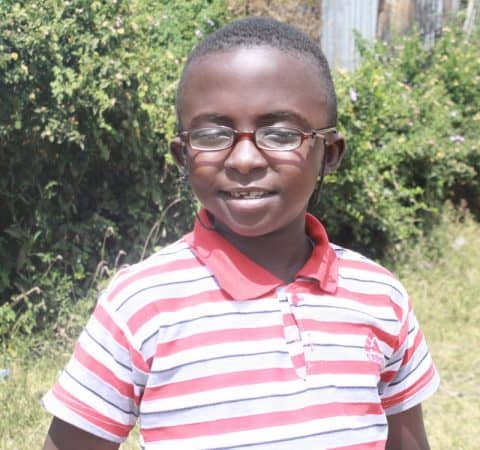 Ryan Lumwaji is the first born in the family of two. He is eight years old. He was born on 22nd, June, 2010. The child is in grade three at Little Ones Academy. They live with their mother in a single room house in the slums of Kawangware. He shares the bedding with his mother together with his younger sibling. Their father abandoned them two years ago and left to unknown place after testing positive from HIV/AIDS and thus refused to seek for medication. His mother is ailing too from HIV/AIDS. The mother is therefore under ARVs medication so as to remain strong for her children in the longest possible time. Effort by his mother to trace the father has been in vain. They can afford three meals a day though it has not been enough for the family.
It's his mother who have been struggling to meet the needs of the family with the little amount of money she earns from selling the second hand clothing. The residential place has no running tap water and therefore, they buy water from the water vendors from within the slum at a cost of Ksh.10 per twenty liter Jerican. The house has electricity and thus Ryan can be able to study in the evening. They share washrooms with other tenants on the plot because their house is not self-contained. The place is fairly secured with an old gate and every tenant has a key to the main gate.
Ryan likes drawing pictures and thus he aspires to be the best architecture as he grows up. When he joins the program, Ryan will be able to join Jagiet Academy which is one of our focus schools.