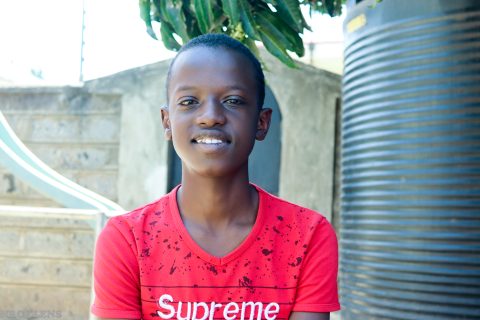 Raymond Odhiambo was born on 12th April 2007. He is now 14 years old. He is an orphan and the firstborn in a family of three. He has two younger sisters who both live with his grandmother. He was enrolled at Ngong Road children's Foundation in 2017 at Jagiet academy in grade six. Being a hard-working student, he sat for the Kenya Certificate of Primary education in the year 2021 and scored 398 marks out of the possible 500marks. He was enrolled at Machakos high school, a boarding national school and so far his performance is impressive. Raymond's family lives in a single room made of iron sheets in the slums of Kabiria. A fairly drained and densely populated area. The home is connected to electricity and therefore Raymond can study at night while at home on holiday. The home is not self-contained and therefore they have to go fetch both washing and drinking water from the nearest vendors at a cost of Ksh.5 per twenty liters jerrican. They also share washrooms with other tenants. The family uses charcoal and a gas cooker for cooking their meals. The child can get at least two meals per day according to the grand parent. Their house is partitioned with a curtain thus Raymond sleeps on the couch while his younger siblings share the bed with their grandmother. The grandmother is a casual worker thus does casual jobs to earn a living and feed the family. She washes other people's clothes and any other job that may arise that she is capable of doing. Since joining the program, Raymond has been able to benefit from quality education, nutrition, health care and community support.
In school, his best subjects are English and Mathematics. He enjoys playing soccer and helping his grandparent with household chores. His favorite meal is Ugali with Chicken. He aspires to be a doctor so that he can be able to treat the sick.
Should he get the sponsorship, Raymond is hopeful to realize his dream of finishing school and becoming a doctor and be able to transform his life for the better.