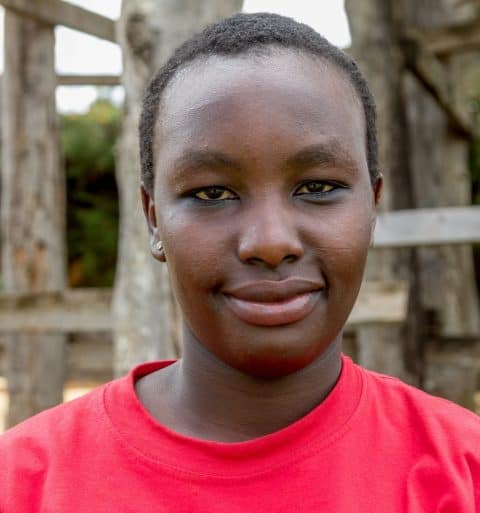 Rachel is 19 years old, born on 7th December, 1999. She lives at Muthama with her mother (HIV positive and on ARV medication) and two sisters. Her parents separated when she was very young and being raised by a single mother. She joined the Ngong Road program 2008 and she has benefit from quality education, improved nutrition, health care and community support. Her sister Purity Wairimu is also in the program.
Rachel and her family live in a two roomed house made of iron sheets. They buy water for domestic use a few meters away from their home. The house has electricity and comfortably does her studies at night while in school break. The toilets and bathrooms are shared with the neighbors and are not well kept. They use a kerosene stove or charcoal Jiko for cooking their meals. Her mother makes beaded items for sale for an income. Rachel eats three times in a day and she sleeps on a bed that she shares with her siblings. There is a table and chair available where she does her studies during school break.
Rachel is disciplined and cooperates well with the other students. She also has a positive attitude towards school .She needs to continue working hard to better her grades. Her career aspiration is to be a tour guide in tourism industries.
Rachel said she will be very happy to get another sponsor and promised to work hard in her studies.