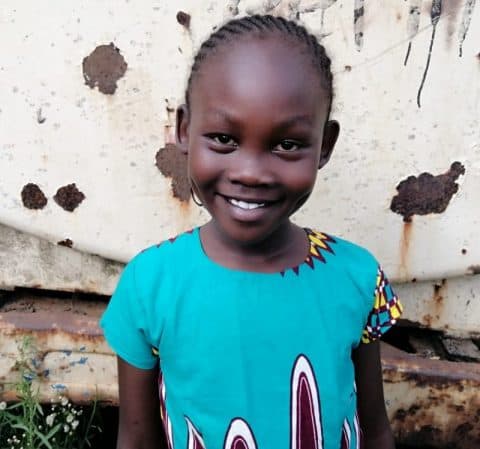 Purity Kerubo was born on 4/13/2012. The child and the family live in Kawangware-Deliverance area. This is one area that has a lot of people and who are busy doing their daily duties so as to make ends meet. The child lives with both her parents.  At home, both the parents are working so as to make a living at the end of each day. The mother is a small scale vegetable vendor while the father is a work at construction sites in the area whenever there is an opportunity. The income got by both is the one that is used by the family for upkeep. In most cases, the income got is usually not enough and therefore, the family is usually forced to skip some needs due to lack of enough money. Despite all this, the family is optimistic that in the near future, all will be well and that they will be able to fully cater for the needs that may arise when they will be having enough money.
They live in a single room permanent house which has electricity connected to it. This, therefore, makes it easy for the child to read even at night and conduct other duties at home. There is a double-decker bed at one corner of the house where the family sleeps on each night. They prepare their meals using either a gas cooker or kerosene stove as they are the most convenient. Their house not being self-contained, the family shares washrooms with their neighbors. They also fetch water for domestic use from the nearest water vendors at Ksh.10 per twenty liters jerican. It is the parent's dream to one day be able to live in a house that has all these and therefore, they say that they are working hard so as to achieve this.
Purity is a student at Little Ones Academy. She is in class four and therefore studying well so as to be somebody of substance in the society. In her recent selection interview, the child was able to score a total of 418 out of a possible 500 marks. The child would like to become a pilot when she is done with her education. She would like to travel around the world and mainly as a pilot. The child likes to read storybooks and at times play hide and seek whenever she is free. When Purity gets a sponsor, she will be joining Jagiet Academy and therefore be able to benefit from quality education.