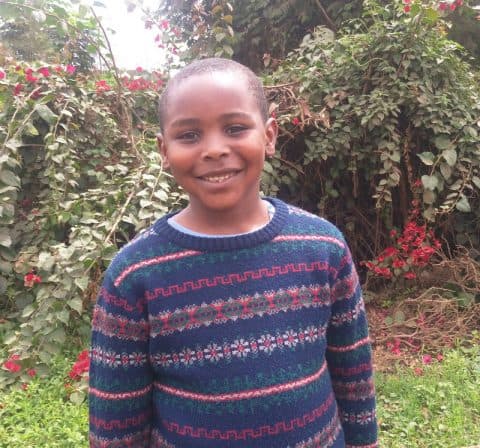 Patrick Macharia is seven (7) years old. He was born on 22nd, November 2011. Patrick has an elder brother who is in High school. The child lives with his mother and a step-father who are HIV/AIDS positive. The child has however tested negative. The family stays at Ngando area which is densely populated and full of activities. The family is very humble. Both the parents are not permanently employed and therefore have to depend on the jobs that may be available in the area. The mother to the child does casual work in the community like washing other people's clothes and at times do sewing of handicrafts. The step-father works in a construction site. This is what the family depends on so to as to get their daily bread. The income got is usually not enough and therefore, the family, in most cases finds it hard to provide fully for the needs that arise at home. They are however more concerned with the educational life of their children and are therefore ready to help them realize this and so that they can be able to transform their lives for the better.
The family lives in a double room house which is made using iron sheets and timber. It has electricity connected to it and therefore, the child is able to conduct his studies even at night without a problem. Patrick shares a bed with his elder brother each night. Their house is not self-contained and therefore, the family shares washrooms with their neighbors and also get to fetch water from the nearest water vendors at a cost of KSH 10 per twenty liters jerican.
Patrick is currently studying at Hope Streams Academy and he is in grade two. At school, the child is usually sent home due to school fees arrears. This is a big headache but there is little they can do. In his recent selection interview, the child was able to get a total of 442 out of a possible 500 marks. Patrick is really optimistic that he will be able to study well and transform his life. He is, therefore, studying well in school so as to become an important person in society. When he grows up, Patrick would like to join the military. During his free time, Patrick likes to play soccer with his friends and also do reading. When he joins the program, Patrick will be able to join Ngando Preparatory which is one of our focus school.