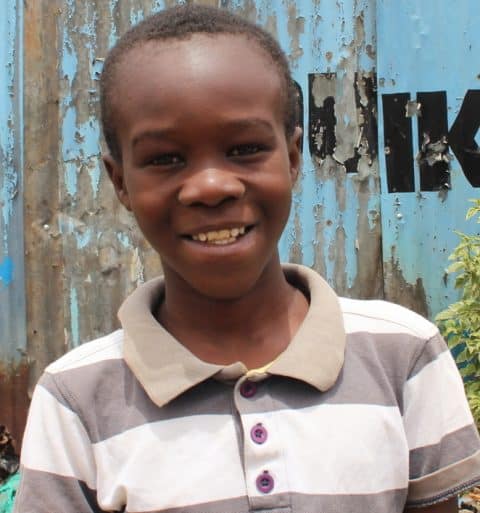 Owen is eight years old. He was born in 19th march 2009. He is the second last born in the family. He has three siblings. The family lives in Satellite area which is densely populated. It is equally full of activities. He lives with his parents who are HIV/AIDS positive but he has tested negative. In most cases, the mother is usually weak and therefore fails to go to the market to buy vegetables for her business.
The family lives in a two roomed house made of iron sheets and timber. The house is connected to electricity and therefore she can comfortably study at night. His mother sells vegetables in the area while the father does casual jobs like Jua kali. The income got is not enough and therefore the family has to forgo some basic needs. They are however forced to manage with what they have hoping for better days. Their house is not self-contained and therefore they buy water for domestic use at a cost of Ksh.5 per 20 liter jerican. They use a kerosene stove and a charcoal jiko for cooking. He shares bed with his elder brother. The family is in need of support to ensure their child goes to school smoothly like other children in the community.
Owen is a student at Kinyanjui Road Primary School and in class four. His best meal is fish and ugali. He loves playing football and taekwondo during his free time both at school and home. He hopes to become an engineer when he grows up. He promised to work hard in school when he gets sponsorship. He will join Jagiet Academy, one of our focus schools when he joins the program. He looks forward to being part of the NRCA family.