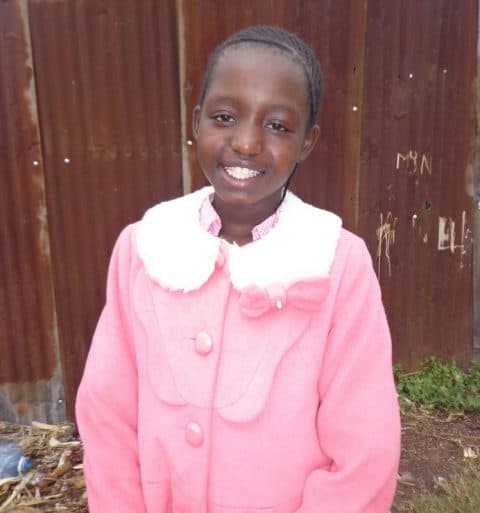 Nicole Osebe is ten (10) years old. She was born on 19th, April 2009. Nicole lives with her mother together with her younger sister in the Kangemi area. The child lives with the mother because they have been having problems with the father. They are a discordant couple and therefore the mother has not tested HIV/AIDS positive. The father got a second wife and whom he already has a child with. He got a second wife because he needed a wife who would give him a son, unlike Nicole's mother. He claims Faith's mother cannot sire sons and therefore the genesis of their problems. To add more pain to the already existing wound, the father abandoned her during the times that she was sick and scheduled for surgery. Nicole's mother has been sick and has been to theater twice for surgery due to stomach complications. She even lost her job because of her sickness. She hopes to get well soon enough to continue catering for her two daughters. The mother is contemplating separating with the husband but is yet to find a job. She, therefore, went back to her parent's house together with her two daughters as she could not afford house rent. The children have therefore been on the receiving end of these relentless confrontations and this has hampered their normal studies at school and growth like other normal children in the community.
The family lives in a double room house made of iron sheets and timber. They have electricity at home and therefore, they can conduct their studies without a problem. There is a double-decker bed where the family sleeps on each night. The family either uses a gas cooker and charcoal stove (depending on availability of money) to make their meals at home. They get to fetch water for domestic use at the plot where they live. At times, they also fetch it from the nearest water vendors at KSH10 per twenty liters a jerrican.
Nicole is a student at PCEA Kangemi primary school. She is in fifth grade. The child does well at school despite all the shortcomings that she faces. In her recent selection exam, she managed to get a total of 426 out of a possible 500 marks. Nicole likes to study and would, therefore, like to become a doctor when she is done with her studies. She hopes to treat her mother in the future and therefore her motivation to become a successful doctor. While at home, Nicole likes to help in doing chores that are assigned to her. She likes to read during her free time.
When she gets sponsorship, Nicole would be able to join Jagiet Academy one of our focused schools and be able to benefit from quality education. Nicole is a sister to Faith Moraa who is also waiting for a sponsorship opportunity.