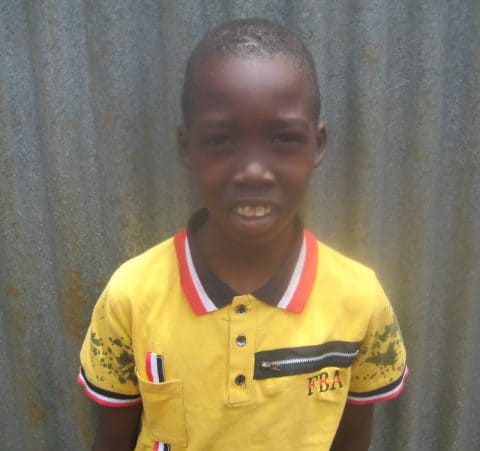 Nicky is 11 years old born, on 3/06/2009. He is in grade four though at home since he no longer goes to school due to lack of fees. The father opted to take him to a public school by the name St. Joseph Nyasore in upcountry. This has not yet happened since they cannot even afford transport to go upcountry.
They are currently living in Dagoretti North slum at a place known as Mutindwa near Ngotho Road where they are hosted by his fathers' cousin. Nicky does not stay with his mother since they separated from the father and hardly communicate. They are three siblings in their family, he is the last born, his big brother is in form four (candidate) while the sister is in form two but still at home in upcountry due to lack of fees.
They live in a single-roomed house made of iron sheets with two seats and two stools which they use as tables. Due to lack of electricity payment, their lights were disconnected, so they use candles at night which is quite strenuous to use to revise/read and also expensive. They have two beds whereby Nicky sleeps with his father in one of the beds. They do not have running water thus the buy from a nearby borehole and tap water which they buy at Ksh 5 per 20 liters jerrican. They use a kerosene stove which they use to prepare their meals, they take their meals once a day and that is in the evening. The plots latrines hygienic standards are very poor since they share one among 8 tenants which they also use as their bathrooms.
His father is currently not working due to his backbone dislocation problem whereby upon consultation of a doctor at Kenyatta National Hospital he was told he had to undergo surgery but due to lack of funds he has to endure the pain while the doctors are trying to get him another solution. He also has stomach problems and forced to feed in light foods like porridge, cabbages, and potatoes. Nicky's uncle is only a security man where he works from 5 am to 8 pm with a very poor pay which can only cater for the house rent. Nicky is a very joyful and hopeful child who likes playing football with his mates. His favorite meals are ugali and cabbages, at school, his favorite subjects are mathematics and science. Nicky likes reading storybooks too and aspires to be an engineer in the future. During his free time, Nicky loves making toys using wires and other plastics. Being a child with big dreams and a bright future Nicky needs to urgently go back to school as he is currently at home as the father is unable to pay school fees.