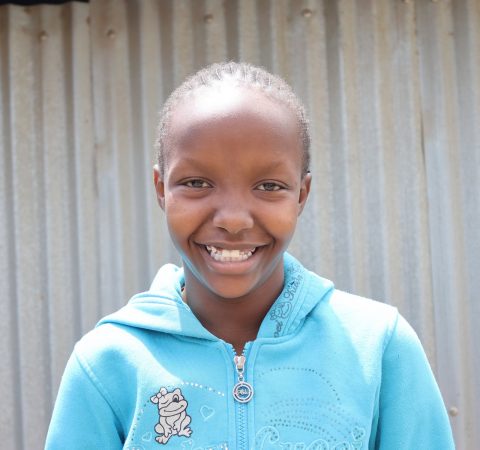 Neema is 11 years old. She was born on 29th, January 2010. The child is an orphan and has been living with her aunt in the Kabiria area. She is the sole breadwinner of the family and she makes her living through vending of fruits in the community. She says her business is not able to fully sustain her and those at home since bills are way more expensive than the return she gets from her business. She continues to hope that things will improve so that she can be able to fully cater to her family at the end of the day.
The family lives in a single room house made of iron sheets and timber in a densely populated Kabiria area. The aunt does not love where she lives but that is what she can afford at the moment. Their electricity connection was cut recently because they could not afford to pay the bills. They, therefore, use a kerosene lamp or a candle each night to do their various stuff. The child shares a bed with the aunt each night while the other people in the house use another available bed. They prepare their meals using a kerosene stove of charcoal jiko as they are the most affordable. Water for domestic use is obtained from the nearest water vendors at Ksh.8 per twenty liters a jerrican.
The child is a grade five student at Ngando Preparatory School. The child would like to become a teacher when she is done with her education. During the recent selection interview, she managed to score 390 out of a possible 500 marks. When she gets a sponsor, she will be able to continue studying at Ngando Preparatory school and therefore be able to benefit from quality education.