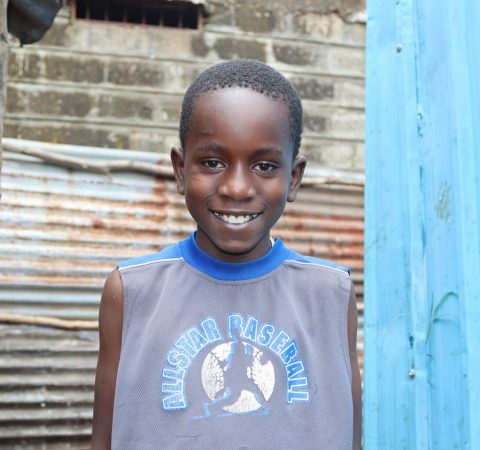 Shem Macharia is ten (10) years old. The child was born on 16th, July 2010. The child lives with his mother who is the sole breadwinner of the family in the Mutuini area. They live in a double-room house made of iron sheets and timber. The child's father is not living with them as he is in a rural home and has not been providing for the family for over five years now. The mother is therefore forced to work so as to provide for her two children, something that has been a hurdle for her. She is not permanently employed and has therefore been doing casual work washing of other people's clothes and farming for their neighbors so as to make a living. She is optimistic that her life status will improve soon so that she can be able to fully provide for her children.
The family has no tap water at home and therefore, they fetch water from the nearest water vendors at Ksh.10 per twenty liters jerrican. They have electricity at home and therefore, Shem is able to conduct his studies without a problem. The other family members are also able to use it to do their various stuff. Shem sleeps on a sofa each night. The family uses either a charcoal jiko or kerosene stove to prepare their meals as they are the most affordable by the family.
Shem is a grade three student at Ngando Preparatory School. He would like to become a pilot in the future and be able to fly airplanes around the world and also be able to transform his life the better through working. The child managed to score 409 out of a possible 500 marks in the recent selection interview. When he is sponsored, Shem will continue to study at Ngando Preparatory School and therefore be able to benefit from quality education.