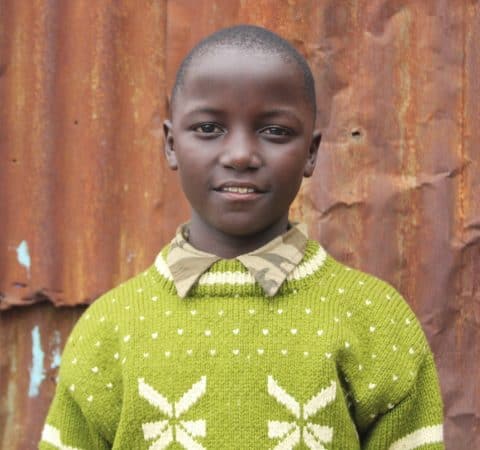 Moses Baraka is eight (8) years old. He was born on 20th March, 2010. He stays with his mother at Kawangware slum which is a densely populated area. The mother is HIV positive and therefore under ARV(s) medication so as to remain strong for her children. He is however HIV/AIDS negative tested.
Moses is the last born in the family. The mother is the sole bread winner of the family and the little she gets is what is used by the family. The mother does casual jobs like washing other people's clothes so as to earn a living. It is a meager income and at times they have to forgo some requirements at home. They stay in a two room house that is made of rusty iron sheets and timber. The house is connected to electricity and therefore Moses is able to study with his siblings at night. The house is not self-contained and therefore they share washrooms with their neighbors. The family gets water for domestic use from a nearby vendor at a cost of Ksh. 8 per 20 liter jerican. Moses shares a bed with his mother whilst the other sibling sleep on the sofa chair at one corner of the room. The environment is not good since they live close to the dumping site which is unhealthy. At home, his best meal is rice with vegetables. He loves drawing and doing school work with the other children at school.
Moses currently goes to school at Maranatha Academy which is in Kawangware slum. He is in class three and doing well academically. In the recent selection exams, he was able to get a total of 454 out of 500 marks. According to his mother, he likes socializing with his friends both at home and school. He hopes to become a teacher in the future. Moses will join Jagiet Academy which is one of our focus schools when he joins the program.