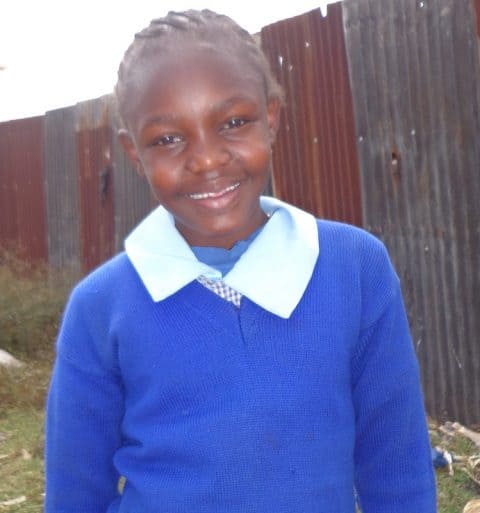 Miriam is nine-year, was born August 8th, 2007. She is in 3rd grade at Riruta Satellite. Her favorite subject is English and CRE. She wants to become a doctor when she grows up. Her favorite game is skipping rope. During the entry exam Miriam managed to score 468 marks out of a possible 500 marks.
They are a family of six living in a one-roomed iron sheet house. The eldest daughter is in boarding high school thus making them seven during the school breaks. They usually buy water for domestic use from a nearby vendor a cost of Ksh.5 per 20 liter jerry can. They use a charcoal stove or kerosene stove for cooking depending on the availability of fuel. They share three toilets and bathrooms with nine other households on the plots. The house is connected thus Miriam and her siblings are able to work on their carry home assignments in the evenings. Miriam sleeps on a bed which she shares with her elder sister.
Her father is a Carpenter while her mother is a cook in a local school at Mithonge. Both her parents are HIV/AIDS positive and are religiously taking ARV's. Her father mentioned that he looks forward for the sponsorship as it will be of great help to his family because Miriam will settle is school since she will not be send home to fetch school fees. It will enable his daughter get quality education.