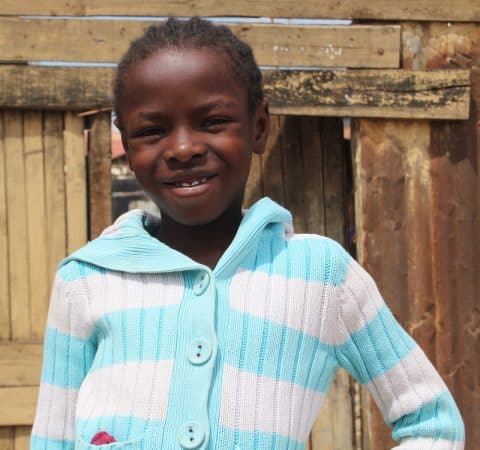 Merlyn is seven years old, born on 5th June, 2009. The student is in Third grade at Jagiet academy, a private and one of our focus schools. She lives with her parents at Racecourse on of the slum in Nairobi. The parents are HIV/AIDS positive and on ARV(s) medication but she has tested negative. When she joins the program, she will benefit from the improved education, nutrition and community support. In the last exam, she scored 472/500 marks.
Merlyn is a social, confident and bright girl. She likes reading story books, playing hide and seek and also skipping rope with her friends. She would like to be a doctor in the future and treat sick people.
They live in a one roomed house made of iron sheets and timber. The house has an electricity connection and they use charcoal or kerosene stove for cooking. She gets two meals in a day and sleeps on a bed. Her parents do manual jobs for an income and the little they earn never meets their all daily needs.
Merlyn will be happy for sponsorship and will continue working hard in her studies.