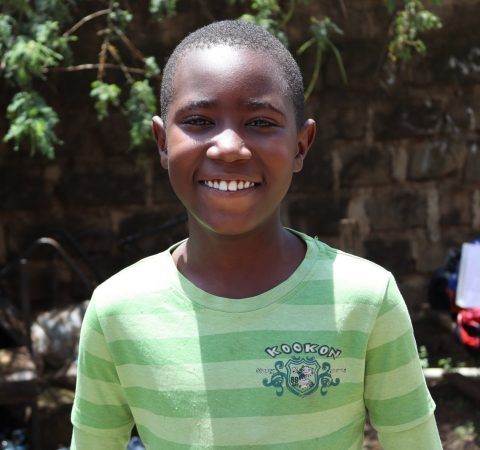 Macarius is eleven (10) years old. He was born on 30th, April 2010. The child lives with both his aunt and uncle in the Kabiria area slums. The family lives in a single-room house made of iron sheets and timber. The aunt took the child after the father passed on and the mother was not taking care of the child back in the rural home which was affecting the child's academic and social life development. The child's aunt does causal work so as to make a living while the uncle is a tailor. Income got from both their hustles is what the family uses for upkeep. It is however not enough in most cases because their nature of work is unpredictable and therefore, they forgo some needs when work is not good.
At home, Macarius sleeps on a sofa in the room while the aunt and the uncle sleep on the only available bed in the house. They have electricity connected in the house and therefore, they are able to use it to do their stuff with Macarius included. They have no tap water at home and therefore, they fetch water for domestic use from the nearest water vendors at Ksh.10 per twenty liters a jerrican. They prepare their meals using either charcoal jiko or a gas cooker depending on the availability. It is a humble home but the family is optimistic that all will be well in the near future.
Macarius is a grade six student at Ngando Preparatory School. He would like to be a doctor when he is done with his education and therefore be able to treat the sick in the community and also importantly, be able to transform his life and that of his family for the better. During the recent selection interview, Macarius managed to score 416 out of a possible 500 marks. The child is constantly sent home from school due to school fee arrears and he fears that this will hamper his academic progress. When he gets sponsored, Macarius will continue to study at Ngando Preparatory School which is one of our focus schools, and therefore, be able to benefit from quality education.