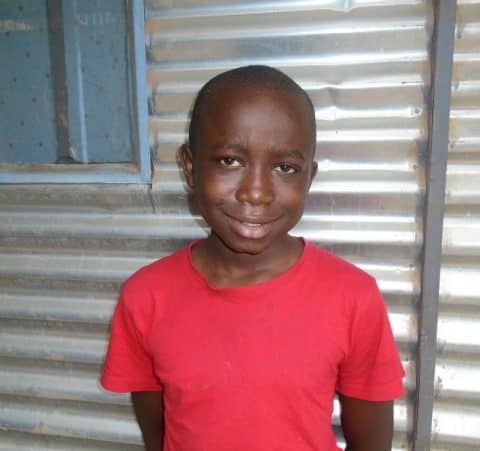 Louise is 11 years old, born on June 18th 2007. He is in class four at Gentians primary school. During the entrance exam Louise score 421 marks out of a possible 500 marks. His hobby is cycling and playing soccer. During the school breaks he helps his mum wash utensils and going to the shop. When he grows up he wants to be an electrical engineer. 
They are a family of six, comprising of both parents and four children. Their house is one room made of iron sheet, it is divided into two using two bed sheets separating the sitting area and bedroom. During the night they place a mattress on the floor where Louise sleeps and shares the mattress with his eldest sister. They have a plastic table where she does her revision and homework school assignments in the evening during school sessions. The house has electricity connection thus easy to study at night. They use a kerosene stove to prepare meals and sometimes a charcoal stove to prepare especially dry foods. They have a small cupboard where they place their utensils and on top of it is an old television set which they use to watch programs during their free times and evenings.
The latrines and bathrooms in the plot are shared one for 30 households' probably the same size as theirs. These facilities are therefore not well maintained due to the high number of people using them. They buy water at 10 shillings per 20 litre jerry can from a nearby water vendor. His mother has been a house wife for the last one year since she became sick and was also expectant with a baby. His father is therefore the sole bread winner, he does jua Kali work and he is currently working temporarily at construction sites. In the attached photos is Louise and his two siblings.