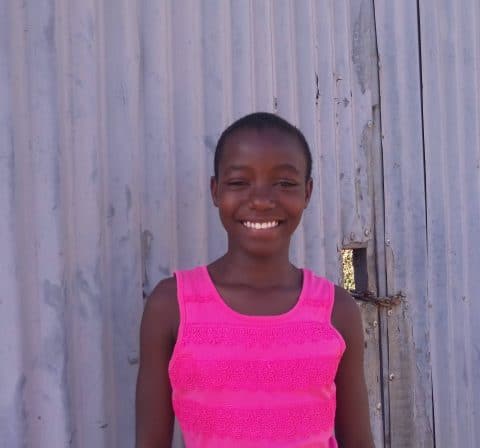 Kimberley Akinyi is twelve (12) years old. She was born on 20th, March 2006. The child lives with her mother who is HIV/AIDS. The child is, however, HIV/AIDS negative tested. She is the sole breadwinner of the family. They come from Ng'ando area which is a slum. The mother is not permanently employed and therefore has to depend on the available jobs that may be available in the community, most notably, washing of other people's clothes so as to make a living. The income got is not that enough and therefore, they find the going very tough. They at times have to forego some needs so due to lack of money.
The child and the mother stay in a single room house that is made of iron sheets and timber. It is a small house and therefore, the room is stuffy. The house has electricity connected to it and therefore the child is able to study even at night without a problem. Their house is not self-contained and therefore, the family gets to fetch water for domestic use from the nearby water vendors at a cost of Ksh. 10 per twenty liters jerrican. They use charcoal Jiko or kerosene stove to cook their meals because they are the most affordable by the family. There is one bed in the room where the mother sleeps while the child sleeps on the sofa that is at one corner of the room. They have a small radio set where the family gets to know in the happenings around the clock. They share washrooms with their neighbors.
The child is in grade six at Migosi primary school. She would like to be a doctor in the future and therefore studying very hard in school. In her recent interview, the child was able to get a total of 423 out of a possible 500 marks. She will be able to join Jagiet Academy once she gets the program and joins the program.