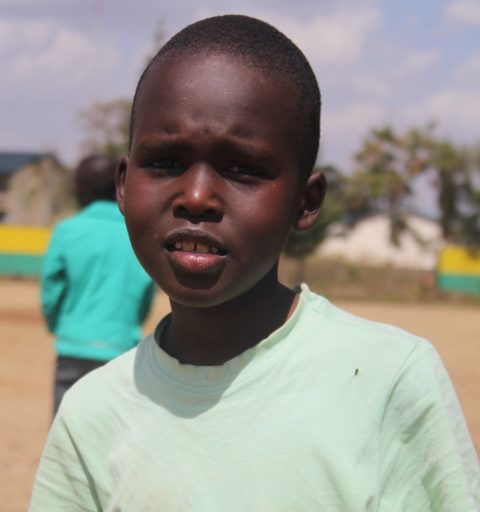 Kelvin Anyien is 14 years old. The child was born on 24th, April, 2006. The child and the family lives in Ngando area. The child lives with his parents who are both HIV/AIDS positive and are therefore under ARVs medication. The child's mother runs a small shop in the community so as to make a living. The child's father on the other hand, recently lost his job and has been looking for another source of income in vain. This has affected them because there is always shortage of money at home to fully cater for things.
Kelvin has a younger brother and two elder step-siblings from the father's second wife. The child and the rest of the family stay in a single room semi-permanent house. The house is connected to electricity and therefore, they are able to do their stuff even at night without a problem. Kelvin and the siblings share a double decker bed that is put at one corner of the room while the parents have their own bed also. They have no running tap water at home and therefore, they get to fetch from the nearest water vendors at KES10 per twenty liter jerican. The family uses either a gas cooker or kerosene stove to make their meals as they are the most affordable. They also share washrooms with their neighbors because their house is not self-contained.
Kelvin is a class eight student at Nelson Mandela Primary school. He is a candidate and is preparing to sit for his final primary school exams so as to join high school come next year. He likes to read most of the time and would like to finish school and be able to join police force in the future. He likes to play soccer with his friends during his free time. When he gets a sponsor, Kelvin will continue to study at Nelson Mandela primary school, which is one of our focus schools and therefore be able to benefit from quality education.