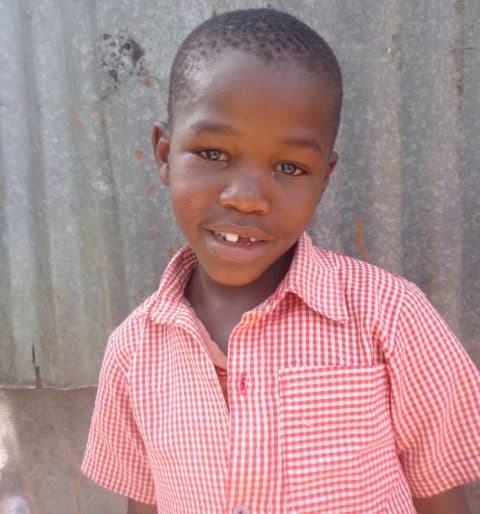 Joseph Okoth Obado is eight (8) years old. He was born on 27th, July, 2010. The child and the family lives in Wanyee Close. This is a densely populated area which is full of activities from different people. They are obviously trying to achieve something and Joseph's home is no exception. The child lives with the parents who are HIV/AIDS positive. They are therefore on mediation so as to remain strong for their family. The mother doesn't have a permanent job and therefore does casual work like washing of other people's clothes in the community so as to make a living. He husband is equally not permanently employed and therefore does casual work like in construction sites whenever an opportunity presents itself. The little that is got from the two is the one that the family uses for upkeep. In most cases, they tend to skip some needs because the income got is usually not enough for the family upkeep.
The family lives in a single room house that is made of iron sheets and timber. It has electricity connected to it and therefore, the child is even able to conduct studies at night without a problem. Joseph and his two siblings also sleep in the house. There is also a small television set that the family uses for entertainment when they are free. The house is not self-contained and therefore, the family gets to fetch from the nearest water vendors at a cost of KSH.20 per twenty liters jerican. They also share washrooms with their neighbors. The child shares a bedroom with her siblings each night. They use gas cooker to make their meals every time they make their meals as it's the most affordable.
Joseph is a student at Cheryl's School. He is in class three. Joseph would like to become a pilot in the future when he finishes his studies so that he can be able to fly planes around the world. In his recent selection interview, the child was able to score a total of 439 out of a possible 500 marks. When he gets a sponsor, he will likely join Jagiet Academy and be able to benefit from quality education.