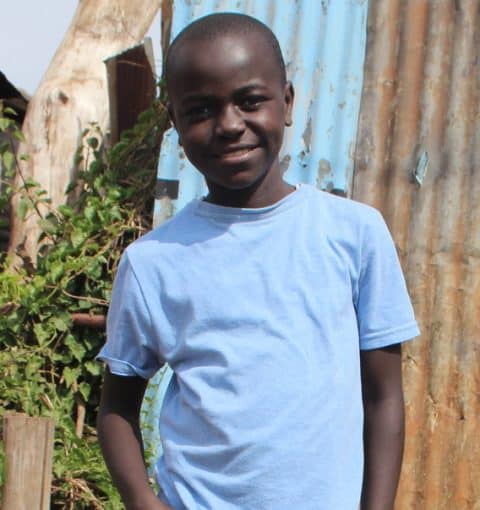 Joseph is ten years old. He was born on 1st, January, 2008. He lives with his mother and Step-father at Ng'ando village. It is a densely populated area and thus full of different activities ran by different people. His mother is HIV/AIDS positive and therefore under ARVs medication so as to remain strong for the family. However, HIV negative. Joseph currently studies at Jamhuri Primary School and in fourth grade. When he joins the program, he will transfer to Nelson Mandela School, which is one of our focus Primary Schools. He will also benefit from education, nutrition and social development through sponsorship.
The family lives in a single room house made of iron sheets and timber. There is electricity connected to the house and therefore he is able to study even at night. They do not have running tap water at home and therefore buy water for domestic use from a nearby water vendors at a cost of Ksh. 10 per 20 liter jerican. Joseph sleeps on a sofa that is placed at one corner of the house. The other siblings have a bed to sleep on. The shares washroom facilities with their neighbors because their house is not self-contained. Economically, the mother gets to make a living through washing other people's clothes in the neighborhood. His step-father works as a security guard. The income got by both of them is not enough. The family is however forced to manage with the little they get.
Joseph loves to read story books or play soccer during his free time. His favorite subject in school is English. In the recent selection exam, he was able to get a total of 384 out of a possible 500 marks. His favorite sport is soccer. His favorite meal is Pilau and beef stew. When he grows up he would like to be a pilot so that he can be able to travel around the world.