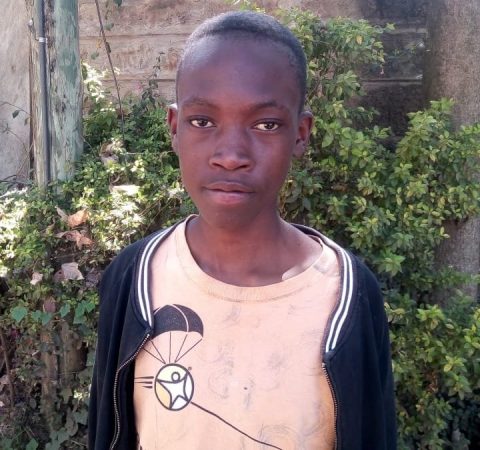 Job was born on May 14 2004. He is in form two and doing well in his studies. Job has been in the program since 2012 but his sponsor abjured. Job would like to become a doctor so that he can treat sick people and save lives. His favorite subject at school is English, History, and Biology. His hobby is playing soccer and swimming even though he is not a good swimmer, he also loves cycling. During school breaks he visits his grandparents and enjoys the village life.
Job lives with his mother, brother, and sister. His mother is a widow, his father died in 2016.
His mother does odd jobs like cleaning Landry for people to make ends meet and life has been really hard since Jobs father died. They live in a rented house made of iron sheet, the house has two rooms. One of the rooms acts as both the sitting area and kitchen and the other one as a bedroom. Job likes cooking tea and eggs because they are easy to prepare. They do not have running water thus they buy water from a neighboring water vendor. They share three (3) bathrooms and latrines with around thirty (30) households. They have electricity connection which enables him and his sister to read and write well during the nights/evenings though at times it's disconnected due to lack of payment. Job shares a bed with his brother.