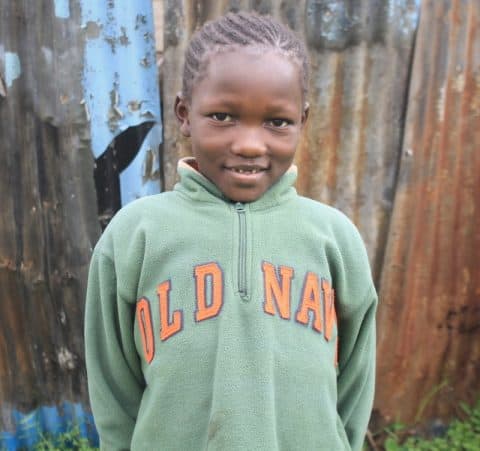 Jennifer was born on 28th October 2010. She is seven (7) years old being last born in the family. Currently, she is in the second grade and schooling at Forester Academy. When she joins the program, Jeniffer will enroll at Jagiet Academy which is located in Kawangware, Dagoretti Sub-County and also one of our focus schools. She is very social, she likes playing hide and sick while at home. She hopes to become a pilot when she grows up. Her best meal is rice, chapatti and chicken. She lives with her parents. Her father who is physically disabled does shoe repairs for people from his wheelchair while her mother does casual jobs mostly doing laundry for the middle-class Kenyans so as to make a living for the whole family. The income got is not enough and therefore the family at times finds it hard to access basic needs as compared to the other privileged families.
The home situation for Jennifer is not good as the family is really struggling to make ends meet. Her home is not conducive for effective daily stay and studies. Their house is single roomed and very small. It is however connected to electricity and therefore the family is able to use it for light at night. Having no running tap water in the house, the family buy water for domestic use from the nearby water vendors at a cost of Ksh.10 per 20 liter jerican. Jennifer shares a bed at night with her parents. According to the parents, they live in the area due to lack of enough money for a better life despite the place not being safe in terms of security especially, during the election periods. The parents are however optimistic that their lives will change for the better in the near future.
They are therefore also optimistic that their child will be able to secure this sponsorship so as to help her transform her life through education.