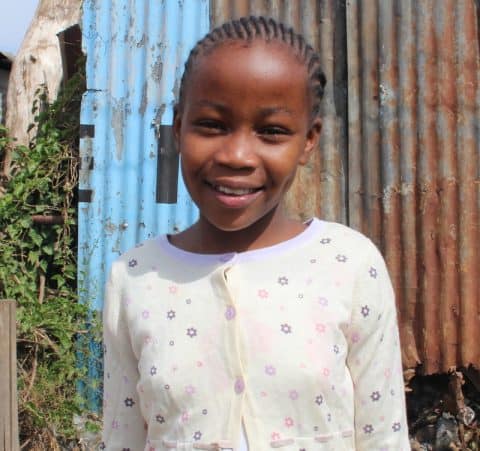 Jacinta is twelve years old. The child was born on 18th, February, 2006. The child and her family lives in Kawangware and densely populated area and which is full of activities. She lives with her mother and three siblings. Her mother is HIV/AIDS positive tested but she has tested negative.
The family lives in a one room house that is made of rusty iron sheets and timber. Their single room house serves as sitting room, kitchen and bedroom. It is therefore congested and thus the family is forced to manage with what they can actually afford. The house is connected to electricity and therefore Jacinta is able to study at night. The family uses a small gas cooker to cook their meals. They also get to buy water for domestic use from the nearest water vendors at a cost of Ksh.10 per 20 liter jerican. They share washrooms with their neighbors as the houses there are not self-contained. The environment is however not that conducive but due to lack of enough money, the family is forced to live there. The mother is however optimistic that better days are ahead. Jacinta shares a bed with her mother. Her mother is the sole bread winner of the family and gets to make a living through volunteering as a community developer and a social worker. The income got is meagre and therefore the family is at times forced to forgo some basic needs due to lack of money.
Jacinta attends school at CCP Academy and is in class five. She likes to go to school but the family faces financial constraints and therefore Jacinta is at home in most cases due to fee arrears. She would like to become a journalist once she successfully finishes school. She likes English subject in school. During her free time, the child likes to play soccer and skip rope with her friends or even read books. Her favorite meal is rice and stew.
When she joins the program, she will join Jagiet Academy which is one of our focus schools. She looks forward to being part of the NRCA family.