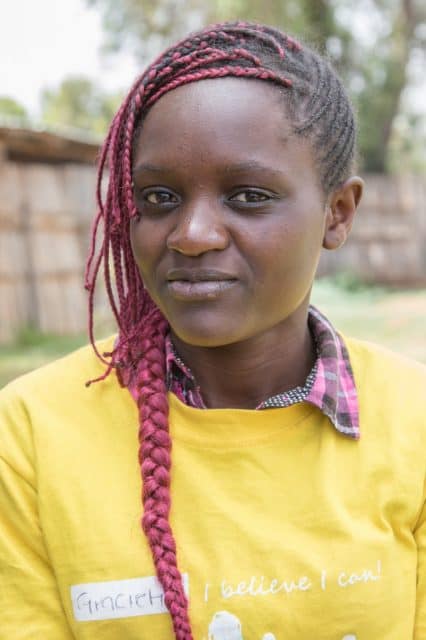 Grace is 18 years old, born on 4/8/1999. She is in Form three at ST Tito Girls Secondary School. She has been in the program for seven years and her sponsor recently abjured. She has benefited from the improved education, nutrition and health support. She lives with the aunt and nieces. Her mother passed away of HIV/AIDS, she has tested negative.
They live in a one roomed house made of old rusty iron sheets. The house is much squeezed as it has been divided to fit the sitting, cooking and sleeping area. Most times she does her studies on a bed during school break. The aunt works as a cleaner to provide for the family. The income is very minimal but they try to survive on it. They use a charcoal jiko or kerosene stove for cooking their meals and she eats three times a day. During school breaks, Grace shares a bed with her aunt. They buy water for domestic use from a nearby vendor and share toilet facilities with the neighboring tenants
Grace is a humble girl and usually helps her aunt with house chores such as washing dishes and cleaning the house. She also likes playing netball at school. Academically she is doing well and scored a grade C- in the last exam. English and Home science are the subjects she likes most at school. When she completes secondary school, she hopes to become a nurse.