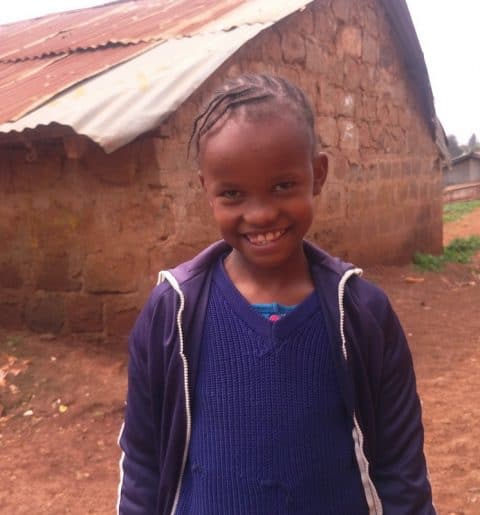 Getrude Ndunge is eight (8) years old. She was born on 25th, February 2011. The family lives in Wanyee close. It is a densely populated area and which is full of activities from various people who try to make ends meet. The child comes from a single-family home. Her father succumbed to HIV/AIDS leaving her with the mother and in an awkward situation because he was the sole breadwinner of the family. This led to the family facing financial crisis and thus this prompted to move back to the rural home because the mother was unable to cater for the family in the city. She, therefore, relocated to the rural home and is now a small scale vegetable trader. Getrude and her two siblings, however, got help from the aunt who lives in the city and who is HIV/AIDS positive tested and was willing to help live with them so that they can be able to continue studying in the city. The mother has however been living in the rural home and only comes to visit them once in a while. The aunt is, therefore, the breadwinner of the family. She makes her living through doing casual labor like laundry and any other job that may arise in the community so that the family can be able to have something at the end of the day.
At home, they live in a double room house that is made of iron sheets and timber. It is connected to electricity and therefore, the family is able to use it for light even at night without a problem. There is also a small television set that the family uses for entertainment when they are free. The house is not self-contained and therefore, the family gets to fetch from the nearest water vendors at a cost of Kes.20 per twenty liters jerican. They also share washrooms with their neighbors. The child shares a bedroom with her siblings each night. They use gas cooker to make their meals every time they make their meals as it's the most affordable.
Getrude is a student at Joyland Foundation School. She is in class three. The child would like to become a doctor when she finishes her studies. She would like to help treat the sick in society so that they can be able to have good health. In her recent selection examination, the child was able to score a total of 430 out of a possible 500 marks. When she gets a sponsor, she will most likely join Jagiet Academy which is one of our focus schools and therefore is able to benefit from education sponsorship.