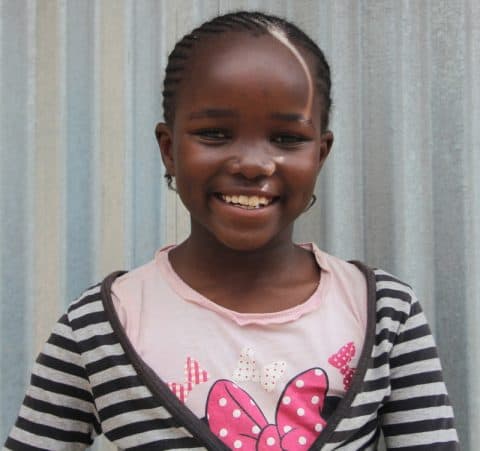 Favor Winfrey is 8 years old. She was born on 9Th, June 2009. She lives with her mother and her three other siblings in Satellite area. It is a densely populated area and thus lots of activities are carried by various individuals. Her father is HIV/AIDS positive tested and is therefore on ARV medication. Her mother has however not reacted to the virus. Favor has tested negative.
The family lives in a single room house made of rusty iron sheets and timber. The house is connected to electricity that is used for lighting at night. They have no access to water and therefore, they usually buy from the nearby water vendors. They and share washrooms with the other neighbors because their house is not self-contained. Favor gets to eat three meals per day and sleeps on a sofa chair in the house. Her mother is employed at a dog firm where she cleans the dog kennels. The income got from the job is not enough and therefore she has problems catering for the family let alone paying for their school fees. The father is not that caring for the family since he got the information that he is HIV/AIDS positive and according to the mother, all this makes caring for the family alone a big problem for her. The father in most cases is never at home and therefore the mother is left alone with the children. The father is however a carpenter and also not well paid. The little income that he is paid there are high chances that he will not bring to the family for use.
Favor attends school at Kinyanjui Primary school. She is in the second grade and is looking forward to joining the next class next year. The child does well at school despite of all that she goes through. In the previous exam, she managed to attain 446 out of a possible 500 marks. She would like to become a teacher when she finishes her education. She would like to help teach the other children in the society just like she is being taught by her teachers. During her free time, Favor likes skipping rope, playing dodge ball and even read story books.
When she gets sponsorship, Favor will  join Jagiet Academy which is one of our focus schools.