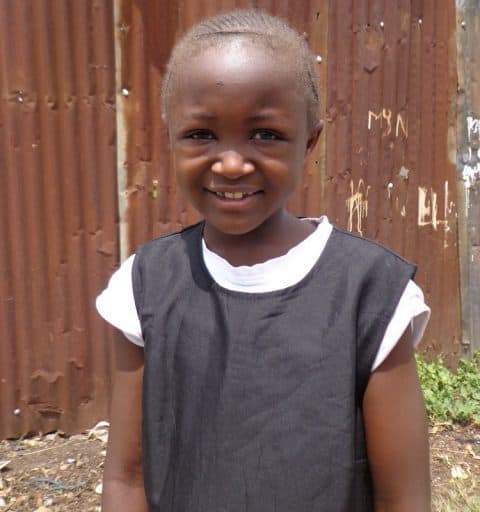 Faith Moraa is nine (9) years old. She was born on 9th, August 2010. The child stays with their mother, her sibling at their grandfather's place sibling in the Kangemi area. They have been living there for the last one year since the mother separated from their father. Her mother has been sickly and has even had two operations in the past year. The parents are a discordant couple and therefore, the mother has not tested HIV/AIDS positive. The child's mother has been having problems with the father to an extent that he got another wife who would sire him, sons. He claims Faith's mother cannot sire sons and therefore the genesis of their problems. To add more pain to the already existing wound, the father abandoned her during the times that she was sick and gone for the surgeries. The mother even lost her job due to her sickness and therefore is currently unemployed. The mother hopes that she will get well and therefore be able to cater for her children to the latter. With all this going on, it is the children in the family that has been on the receiving end. Their academic life has been tampered with and therefore, they are at times sent home from school due to the unmet needs and provision at school.
At their grandfather's place, they live in a double room house made of iron sheets and timber. Their house is not self-contained and therefore, they fetch water for domestic use within the plot. When it is not there, they get to fetch it from the nearest water vendors at KHS 10 per twenty liters jerrican. Their house has electricity connected to it and therefore, each member that is present can use it at night including the children for studying. They have a double-decker bed in which the three of them sleep on each night.
Faith goes to school at PCEA Kangemi primary school and is in the fourth grade. She studies well and would, therefore, like to become a teacher when she is done with her education. She draws inspiration from the good teachers that she has and on how they often encourage her and other students. She is, therefore, working hard despite all that they are going through at home. During the recent selection interview at our offices, Faith was able to score a total of 446 out of a possible 500 marks. When she joins the program, Faith will most be able to join Jagiet Academy one of our focus schools and therefore be able to benefit from quality education through the sponsorship. Faith Moraa is a sister to Nicole Osebe who is also waiting for a sponsorship opportunity.