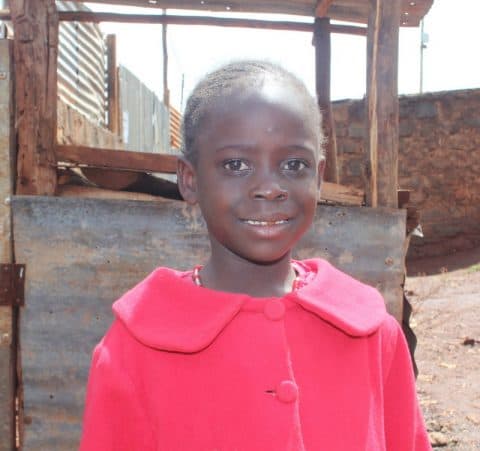 Esther Joy is eight (8) years old. She was born on 18Th, March, 2009. She lives with both her parents and her other two other siblings in Kabiria area. It is a densely populated area and with lots of activities which are carried by the various individuals. Both the parents are HIV/AIDS positive and therefore on ARV(s) medication. The child is however HIV/AIDS negative tested.
The family lives in a double room iron sheets and timber house. The house is connected to electricity which is paid via token and which the family uses for lighting at night. Joy is also able to do her homework in the evening without a problem. They have no access to water in the house. They therefore usually buy from a nearby water vendors at a cost of Ksh.5 per 20 liter jerican. The family also shares washrooms with their neighbors because their house is not self-contained. Esther gets to eat three meals per day. In one corner of the room there is a double-decker bed in which the children of the house sleeps in. Esther and one of her sibling share one decker while the elder sister sleeps on one also. The parents sleep on the other room. Her mother makes a living by selling cereals in a small kiosk by the road while the father also chip in by doing construction work and any job that may arise. The income got by both the parents is not enough and therefore the family finds it hard at times to cater for the family needs.
Esther will be joining second grade next year. She attends school at Alpha Glory Academy which is in the area. She does well at school and in the previous exam, she was able to get a total of 412 out of a possible 500 marks. She would like to become a doctor when she finishes her education. She would like to treat the sick in the society and thus her aspirations to become a doctor. During free time Esther likes to skip rope, play hide and seek, dodge ball and even reading story books.
Should she get the sponsorship, Esther will most likely join Jagiet Academy. The child looks forward to being part of the NRCA family.