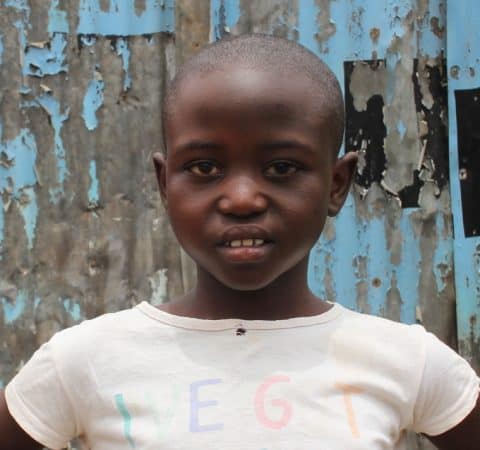 Esther is nine years old. She was born on 18th August, 2008. The child lives with both her parents who are HIV/AIDS positive but she has tested positive. They stay at Ng'ando Village which is a densely populated area. The area is full of activities by the various people with the aim of making their lives better.
Esther is in second grade in St Joseph Catholic School. When she joins the program, she will be enrolled at Nelson Mandela School, a private and one of our focus schools. She will benefit from quality education, nutrition, health care and community support on her course to transform her life through education.
The family lives in a two room stone house that has electricity connection. There is no running tap water available therefore, buy it from the nearby water venders at a cost of Ksh.5 per 20 liter jerican. The family uses charcoal or kerosene stove for cooking their meals as they are the most affordable by the family. Esther gets at least two meals per day. They share washrooms with their neighbors since their house is not self-contained. She shares a mattress with her siblings that is placed on the floor.  Economically, the father is a construction worker whilst the mother is a fishmonger. This is their source of livelihood and the money got is used for family upkeep. In most cases, the income got is not enough and therefore the family has to at times forgo some basic needs.
In school, the child's best subject is English. In the recent exam, she scored a total of 401/500 marks. Esther enjoys doing simple duties at home like washing dishes and tiding the house. She likes rice and beef stew. When she grows up, she would like to be teacher so that she can teach other students the same way she is being taught and make the society a better place through education. She likes to play dodgeball during free time together with her friends. She also likes reading story books.
When she gets the sponsorship, Esther is hopeful to realize her dream of successfully finishing school and get employment in the same field of study. She sees this as the ideal way to transform her life and that of her family for the better.