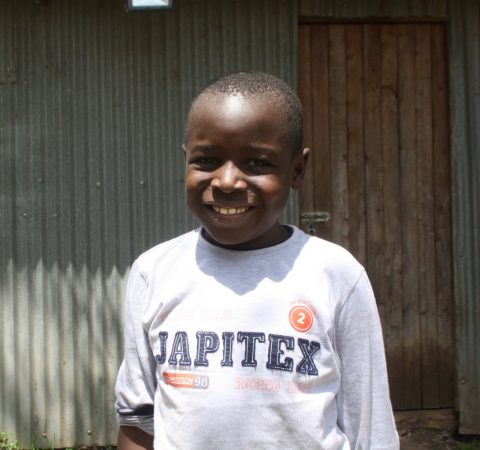 Emmanuel Wetere is seven years old. He was born on 30th, March 2013. The child and the family come from Kabiria which is densely populated. He is the last born in their family. He has an elder sister. The family lives in a single room house made of iron sheets and timber. Emmanuel's mother is the sole breadwinner of the family. She separated from the father of her children and has solely been living with her children alone. The mother works in a matchbox making company so as to make a living. The income got is meager but the family has to survive nevertheless. She continues to hope that things will be good for her and the family in the long run.
The child's home is small but that is what the mother can be able to afford. Emmanuel and his sister sleep on a mattress that is put on the floor each night. The mother sleeps on the only available bed in the house. They use charcoal Jiko or kerosene stove to prepare their meals since it is the most affordable to the family. There is no tap water at home and therefore, they get to fetch from the nearest water vendors at KES10 per twenty liters jerrican. The family also shares washrooms with their neighbors because their house is not self-contained. This is common in most slums in the country.
Emmanuel attends school at Ngando preparatory school. He is in class two and would like to be a pilot in the future after school. During the recent selection interview, the child was able to score a total of 422 out of a possible 500 marks. The child will continue studying in Ngando preparatory when he joins the program and be able to benefit from quality education.