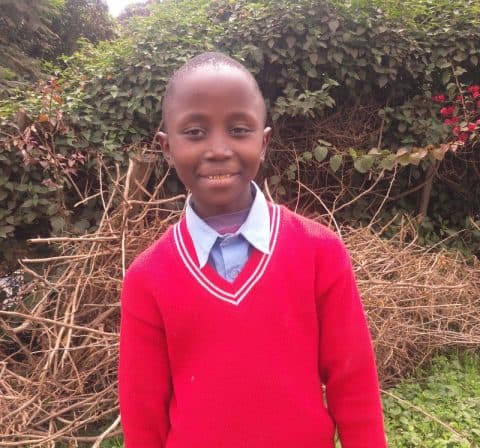 Emmanuel Ombuya is nine (9) years old. He was born on 7th, July, 2009. The child lives with his aunt who is HIV/AIDS in Ngando area. It is densely populated and therefore, there's lots of activities by the different people. The child has however tested negative. The child's home situation is wanting. The aunt of the child is not permanently employed and therefore have to depend on the jobs that may be available in the community. The aunt to the child therefore does casual work in the community like washing other people's clothes so as to make ends meet. The family therefore in most cases find it hard to get all the needs that may arise due to lack of enough money. They are therefore forced to live with the little that is available.
They family lives in a single room house which is made using iron sheets and timber which has electricity connected to it. The child is therefore able to conduct his studies even at night without a problem. The child sleeps on a bed that is at one end of the room. He shares it with the aunt. They share washrooms with their neighbors and also get to fetch water from the nearest water vendors at a cost of KSH 10 per twenty litres jerican because their house is not self-contained.
Emmanuel is a student at Talents Preparatory School. He is in class four and doing well. He would like to become a pilot when he finishes school so as to fly people around the globe. His studies is however hampered by lack of enough income and therefore, he is at times sent home due to lack of enough school fees. In his recent selection interview, the child was able to score a total of 423 out of a possible 500 marks. When he joins the program, Emmanuel will be able to join Jagiet Academy which is one of our focus school so that he can be able to benefit from education sponsorship.