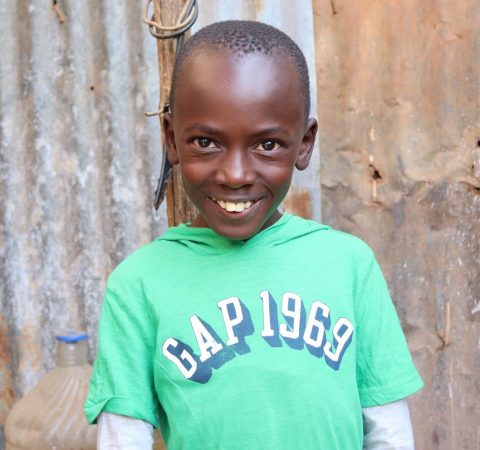 Edwin is eight (8) years old. He was born on 5th, June 2013. The child and the family live in Kawangware- Stage 2 slum. There is a lot of activities going on in this part of the slum. The parents say that they can only manage to pay rent in this part of the city and that's why they stay here. They don't like the place but it's what they can manage at the moment. They are not permanently employed and therefore, they do casual work in the community so as to cater to their young family and themselves. The child's mother is a small-scale vegetable vendor in the community while the father is a volunteer in one of the local CBO's. What they get from their respective hustles is the one that the family uses for upkeep. They are optimistic that things will improve soon and that they will also be able to live a better life in the near future.
At home, Edwin loves to play with his little sister. He also helps in doing small chores when he is free. He shares a bed with his little sister each night while their parents have their own bed at one corner of the house. They stay in a single room permanent house. They have electricity connected at home and therefore, they are able to do their various activities even at night. The family prepares their meals using either a gas cooker or a Kerosene stove depending on the availability. They do not have tap water at home and therefore, they get to fetch it from the nearest water vendors at Ksh.10 per twenty liters a jerrican. They share washrooms with their neighbors because their house is not self-contained.
Edwin is a grade two student at World Hope Center. He likes going to school and would like to be a doctor when he is done with school and be able to treat the sick in the community and most importantly be able to transform his life and that of his family for the better. Edwin and the family are however worried because Edwin is always sent home from school due to school fee arrears. This hampers his academic progress and he fears he might never achieve his dream. During the recent selection interview, Edwin managed to score 468 out of a possible 500 marks. When Edwin gets a sponsor, he will be able to join Jagiet Academy which is one of our focus schools, and therefore, be able to benefit from quality education.