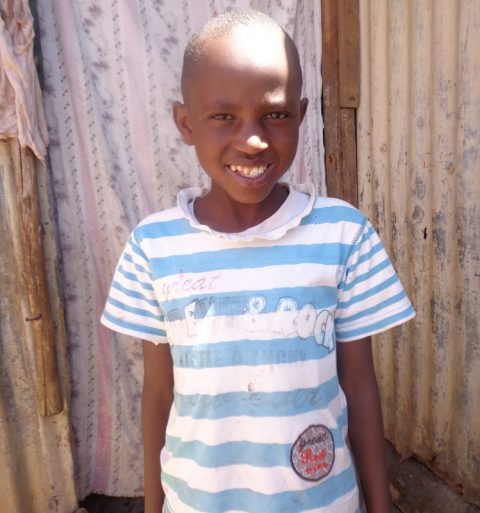 David is eight years old. He was born on 13th, January, 2011. He lives with his parents in Kabiria area which is densely populated. David and the family lives in a double room house made of iron sheets and timber. David's mother is HIV/AIDS positive and therefore under ARV(s) medication. The father has however refused to go for testing and therefore his status unknown. The child is however negative tested. The family is struggling financially and therefore finds it hard to fully cater for the family. The mother is a casual labourer and therefore has to depend on any job that may avail itself in the community. The father is also not permanently employed and therefore has to do casual jobs here and there so as to help cater for the needs that may arise in the family.
The family lives in a double room house that is made of iron sheets and timber. The house has electricity connected to it and therefore, the child and the other sibling are able to conduct their studies even at night without a problem. The house is also not self-contained and therefore, they have to fetch water for domestic use from the nearest water vendors at Ksh.10 per twenty litres jerican. They cook their meals using a gas cooker or a kerosene stove. The family also shares washrooms with their neighbours. The child and his other sibling sleeps on a bed at one corner of the house. The family
David attends school at Flowkama academy in Kabiria. He is in class two. The student would like to become a pilot when he is done with his education and therefore be able to fly around the world. In his recent selection interview, the child was able to score a total of 446 out of a possible 500 marks.
When he gets sponsorship, David will join Jagiet academy which is one of our focus schools and therefore be able to benefit from quality education.