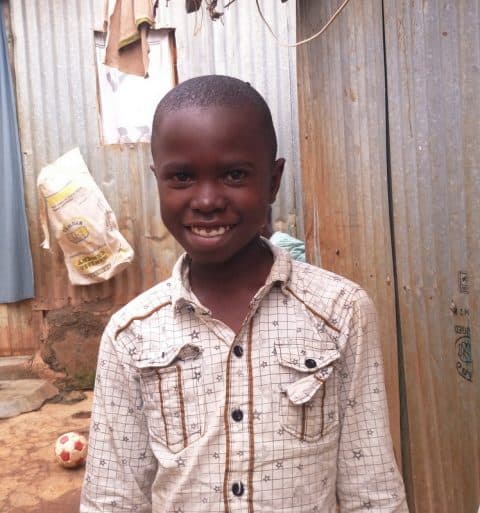 Cornelius Siali is ten years old. The child was born on 8th, January 2008. He is the third born in a family of four siblings. He is a nice quiet student. Cornelius lives with both the parents who are HIV/AIDS positive. The child is also positive tested. Despite their status, they still have to cater for their children at the end of the day. Therefore, the mother of the child is an ECD teacher in a local school. The father is a security guard and the income that is got by both the parents is the one used by the family for daily upkeep and sustenance. In most cases, the income is usually not enough and therefore, they find it hard to cater fully for all the family needs. They are at times forced to forego them due to lack of enough money.
The family lives in a single-room house that is made of iron sheets right in the middle of Gatina in Kawangware slum. It is densely populated and therefore, people can be seen moving here and there doing their various duties. It is a noisy neighborhood, especially in the evening. The child and the family forced to live here because this is where they can afford to live for now. They are however optimistic that the will be able to move to an even better place in the near future. Cornelius sleeps on a mattress that is put on the floor each night as there is not enough room for another bed and also the fact that they are many at home. They have electricity connected to the house and therefore, they can be able to study and conduct their various duties at night. There are two seats in the house. The family uses a kerosene stove to cook their meals because that is the most affordable to the family. They fetch water for domestic use from the nearest water vendors at a cost of KSH.5 per twenty liters jerican.
Cornelius is a student at Glory Christian Educational Center. It is a small local school. The child is in class three and is doing well academically despite the fact that he has problems with school fees payment and other needs. He would like to become a pilot when he finishes school. He would like to fly planes around the world and also be able to transform his life and that of his family for the better. In the recent selection interview, the child was able to get a total of 422 out of a possible 500 marks. He will be joining Jagiet Academy which is one of our focus school once he gets a sponsor.