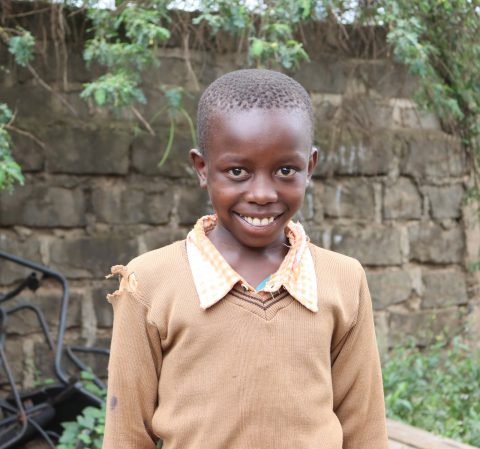 Constant is ten (10) years old. The child was born on 11th, January 2011. Constant and his family lives in Kawangware slum in a tiny single room house made of iron sheets and timber. Their house has electricity connected to it and therefore, the child is able to study even at night without a problem. The child lives with both his parents who work so as to provide for them at the end of each day. The father is a security guard in a local security firm while the mother does casual work like doing laundry for other people in the community so as to make a living. The income obtained by the parents is usually little and they are therefore forced to forgo some needs due to lack of enough money.
At home, Constant sleeps on a sofa while the parents sleep on the only available bed in the house. They have electricity at home and they get to fetch water for domestic use from the nearest water vendors at Ksh.5 per twenty liters per jerrican. They share washrooms with their neighbors because their house is not self-contained. The family prepares their meals using either a kerosene stove or a charcoal jiko. It is a humble home but the family is optimistic that things will change for the better even days go by.
Constant is a grade four student at Gatina Primary school. He would like to study well and become an artist. He is constantly sent home from school due to school fee arrears and other expenses at school. Therefore, the child will be able to benefit from the sponsorship at Ngong Road. During the recent selection interview, Constant managed to get a total of 394 out of a possible 500 marks. When he gets sponsorship, he will be able to join Jagiet Academy which is one of our focus schools, and be able to benefit from quality education.