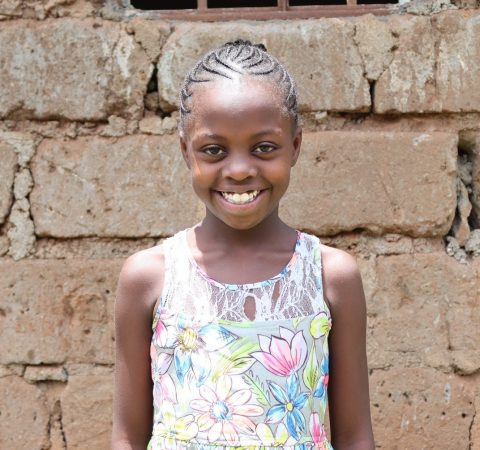 Claire Muthoni is ten (10) years old. She was born on 14th, March 2011. The child and the family live in Kabiria-Adonai slums. They live in a single room permanent house and which has electricity connected to it. Claire currently lives with her aunt because the mother is usually not at home because of work. Her father passed on and therefore, she Claire by the two women whom she loves very much. The aunt washes other people's clothes so as to make a living while her mother is a house manager and therefore stays in her employer's place till the weekend when she gets to see her daughter. They combine their income so that they can be able to provide for the family at the end of the day.
At home, Claire likes to study and also helps with little home chores whenever there is a need to do so. They use either a gas cooker or kerosene stove to prepare their meals. Claire shares the only available bed in the house with her aunt each night. Their share washrooms with their neighbors because their house is not self-contained. Water for domestic use is fetched by the family from the nearest water vendors at Ksh.10 per twenty liters jerrican.
At school, Claire is doing well and would like to become a Chef once she is done with her education and be able to transform her life and that of her family for the better. She is in grade four at Ngando Preparatory School. She managed to score a total of 392 out of a possible 500 marks in the recent selection interview. The child likes school but due to school fee arrears, she is constantly sent home from school and this hampers her academic progress and would therefore be grateful and study well if she gets to be sponsored. When she gets a sponsor, Claire will continue to study at Ngando Preparatory School which is one of our focus schools, and therefore, be able to benefit from quality education.